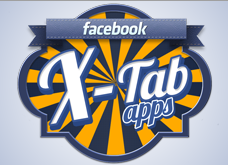 What businesses and companies need to realize also are the kinds of activities that draw visitors and fans to a Page, and indeed, the strategies and methods used to keep them coming back for more, culminating in increased brand awareness and sales
(PRWEB) December 12, 2011
This December 14 will see the release of the XTAB video on the 3 important marketing strategies used by successful businesses to increase their Facebook fan base by the thousands, and to make their business grow by a whopping 50% to 95%. These strategies are also used by Fortune 500 companies to attract and drive over 75% of their social audience.
But first, why would a business want to set up a Facebook Page in the first place?
Phil Benham elaborates, "Did you know that one of the most successful websites online is allowing marketers and business owners the biggest opportunity to cash in on THEIR OWN traffic? More than 800 million registered users! 400 million of those users log in to this site everyday! This website's average user spends 23 minutes per visit and stays on this site more than an hour a day. Fortune 500 companies use this site to drive over 75% of their social audiences. One half of all businesses have a presence on this site. And did you know 98% of Facebook users consider a brand they follow on Facebook when deciding on a purchase? And 97% BUY any given product or service from a brand they follow on Facebook! On top of that, over 60% of Facebook users would recommend a business Page they are a fan of to their friends!"
However, it is not enough to just simply set up a Facebook Page and then hope for the fans and revenue to come. Like any other marketing skill, doing well on Facebook requires a sound knowledge of what draws fans to a Page and how they socially engage and interact with the brand.
"It is not enough to have a Facebook Page presence. What businesses and companies need to realize also are the kinds of activities that draw visitors and fans to a Page, and indeed, the strategies and methods used to keep them coming back for more, culminating in increased brand awareness and sales", Daniel Tan says.
"Our video will shed some insight on these strategies used by both successful small town local companies and big name Fortune 500 companies alike. With them, any business is guaranteed to see their fan base and business performance improved, often times dramatically."
To find out what the 3 strategies are, XTAB's video can be seen here, ready on December 14, 2011.
###