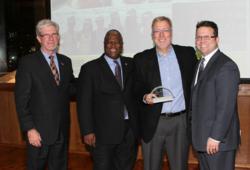 Urban Heroes are risk-takers and entrepreneurs helping grow the Downtown Kansas City economy
Kansas City, MO (PRWEB) December 12, 2011
Meers Advertising founder and President Sam Meers was named a 2011 Urban Hero by the Downtown Council of Greater Kansas City for his contributions to making downtown a more vibrant place to live, work and play. Meers' business has been located downtown since its founding nearly 18 years ago, first in the River Market and now in the Crossroads district.
"This award holds special meaning because of my belief in the importance of a thriving downtown and my expectation that downtown Kansas City will continue its rebirth through the work of dedicated individuals and companies who support the Downtown Council," Meers said.
The 2011 Urban Hero awards recognized entrepreneurs and small business owners who enhance life downtown by "improving the physical, social, business, retail, manufacturing, office, neighborhood or work environment," according to the Council.
Nominees were required to be "risk-takers" and founders of fast-growing, small or entrepreneurial businesses "helping grow the Downtown economy."
Meers and his business recently have received accolades for innovation-driven business growth. INC magazine named the full-service advertising/digital agency to its 2011 list of the 5000 fastest-growing private companies. Meers Advertising also was one of the inaugural winners of the Kansas City Business Journal Impact Award for use of technology to impact top-line growth. The company grew more than 450 percent from 2008 to 2011.
Urban Hero winners were recognized today at the Downtown Council's annual luncheon at the Kansas City Convention Center. The Council also honored Julia Irene Kauffman, patron of the Kauffman Center for the Performing Arts, with the J. Philip Kirk, Jr. Award, its premier award for Recognition of Community Vision and Downtown Stewardship.
2011Urban Hero recipients include Christopher Elbow, Christopher Elbow Artisanal Chocolates; Danny Gosserand, Danny's Big Easy; August Grasis III, Handmark; Shaul Jolles, OfficePort, LLC; Keith Novorr, Michael's Fine Clothing For Men; Danny O'Neill, The Roasterie, Inc.; Teri Rogers, T2; Ryan Sciara, Cellar Rat Wine Merchants and Emily Voth, Indigo Wild.
About Meers Advertising
Meers Advertising is a full-service advertising/digital agency headquartered in Kansas City, Missouri. The agency works to advance their clients' business by helping them solve marketing challenges through relevant, engaging and compelling communications to consumers. Meers is a member of the American Association of Advertising Agencies (4As). More information can be found at Meers.com.
# # #