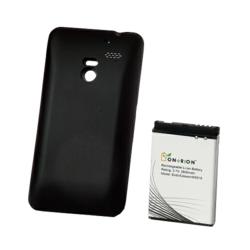 Let's Embrace Green in Life
Dallas, TX (PRWEB) December 13, 2011
Anyone who's ever had their ear talked off by a non-stop gabber knows what a strain such an experience can put on their smart phones – not to mention their sanity. The newest additions to from OnTrion Battery Company's (http://www.ontrion.com) line of extended mobile phone batteries can eliminate the pain associated with being the unlucky victim of a chatterbox. With their extended battery door, these cell phone power supplies are two to three times longer lasting than the average competition. That means Chatty Aunt Cathy can talk until she's blue in the face while her receiving-end prey can go about business as usual — without either one missing a beat.
According to a CNET reviewer, "The Droid Bionic delivered an average of 7 hours and 55 minutes talk time with 4G enabled." At 3G only, that duration increased to "a very impressive 10 hours and 21 minutes talk time." Just imagine how productive life could be keeping an ear-chewing friend or family member going at that clip, every time she calls, for double or even triple a normal mobile phone battery life. OnTrion extended batteries make that dream a reality.
LG Esteem owners who rely on a traditional battery, however, don't fare quite as well. The CNET editors penalized the smart phone, saying its "worst offense is its poor battery life." Consumers who've been hit with a double whammy of owning an LG Esteem and having a too-talkative acquaintance can drastically improve their situation with an OnTrion LG Esteem battery as well.
OnTrion is a nine-year veteran of the distribution of cell phone batteries. In addition to now offering extended batteries for the Motorola Droid Bionic and LG Esteem, the company provides extended-life power supplies for all the major smart phones. Compatible models include the HTC EVO Shift, Gingerbread, HTC Incredible, Huawei M865, Ascend II, Samsung Admire R720 and many others.
Despite being able to put Chatty Aunt Cathy on hold for hours – and even months – on end to chirp away with herself, OnTrion mobile phone battery users need not feel guilty about their ruse. The purchase of every extended battery online at http://www.ontrion.com will support a philanthropic cause. A portion of every battery sale supports needy children in the world.
For more information on how to double or triple the life of an average smart phone battery, contact Jesse Khurana toll-free at (877)676-0877. To see just how long the windbag in your life can keep going on OnTrion extended mobile phone batteries, drop by Booth # 4324 at the 2012 International CES exhibition this upcoming January.
CONTACT INFORMATION:
(877)676-0877
http://www.ontrion.com
###