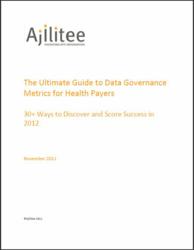 Metrics reveal the full story on what's happening with a data governance program.
Rolling Meadows, IL (PRWEB) December 12, 2011
Ajilitee today announced that it has released a new guide on data governance metrics entitled, "The Ultimate Guide to Data Governance Metrics for Health Payers: 30+ Ways to Discover and Score Success in 2012."
Ajilitee's data governance metrics guide is recommended for any organization aiming to measure and improve the value of their corporate information through data governance. While many of the 34 quantitative and qualitative metrics are geared toward health insurers, the complimentary guide offers broad cross-industry applicability.
"Metrics reveal the full story on what's happening with a data governance program," said Terrence Ryan, Ajilitee CEO. "Our guide supports data governance best practice With Healthier Data Governance] by empowering organizations with hard data points that drive consistent and quality information, which helps to realize its full potential."
Other recent Ajilitee data governance resources include a blog on "Five Key Data Governance Council Metrics," and a white paper entitled, "How to Improve Your [Everything] With Healthier Data Governance." All materials are available at http://www.ajilitee.com.
About Ajilitee
Ajilitee is a consulting and services firm specializing in business intelligence, information management, agile analytics, and cloud enablement. Our award-winning information experts create agile IT environments using cloud-based technologies and architectures for faster time-to-benefit with less cost and risk. We advise, build, and run programs that quickly and cost-efficiently drive immediate and measurable outcomes for companies with strategic information needs. Ajilitee is a division of LaunchPoint, a provider of enterprise-class information-centric services and solutions. Learn more at http://www.ajilitee.com.
###