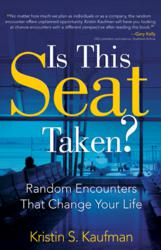 Holiday Reading Roundup - Get a jump-start on 2012 with new books that inspire, motivate, educate, and rejuvenate.
Dallas, TX (PRWEB) December 16, 2011
What better time than now to explore new books that inspire, motivate, rejuvenate, and educate. This holiday season Brown Books Publishing Group offers readers the perfect gift of all.
Get a head start on 2012 with new titles on topics such as: history, photography, business, finance, economics, investing, self-help, how-to, health & fitness, or mind/body/spirit titles; fiction, nonfiction, romance, or cookbooks.
Explore the intrigue of random encounters in the new book "Is This Seat Taken? Random Encounters That Change Your Life," by Kristin S. Kaufman. Learn the importance of being present in the moment of "now!"
Read what Don Henley, recording artist and founder of the Walden Woods Project has to say about "The Parks of Colorado Springs: Building Community, Preserving a Legacy," by Nancy Lewis with Deborah Odell.
"Life's Bridges: Building Your Bridge to Financial Wealth," by financial expert Lloyd Lowe Sr., founder of LD Lowe Sr. Wealth Advisory in Dallas, TX and senior partner, Ethan Bonar, Chief Compliance Officer, offers readers their financial expertise and business knowledge to connect with people seeking financial security for the future. They provide the blueprint to get readers started then guide them through the steps to financial security for life.
Aspiring photographer's will appreciate "Everyday," by Leonard Volk, FAIA emeritus, and retired architect. Volk offers readers an eye-opening look inside his rare collection of select photographs and essays from over 60 years. A visionary with an innate talent for photography, Volk explores the impact of the ordinary through the lens of a camera.
Come down with Penguin-Mania! "Penguin-Pedia: Photographs and Facts from One Man's Search for the Penguins of the World," by author and photographer David Salomon of Dallas, TX, offers readers an eye-opening look inside the world of the 17 living species of penguins from around the world today. Fascinating photographs accompany detailed information about these magnificent birds from such faraway places as Peru, the Galapagos and Falkland Islands, and Africa. *Note the travel glossary at the back of the book - with guestimate cost to visit each venue - and begin a magical journey into the kingdom of penguins...
Take a step back in time with Conita Jernigan Lyle, author of "Letters from England - a memoir." A true story, explore the impact of life changing moments that determine one's destiny.
Promising day trader's will learn the inside secrets to commodities trading in "Chalk Talks for Traders: EASY Xs and Os From a Proven Market Pro," by Phil Storer. While retail executives will enjoy "Pioneering the Superstore: A Retail Revolution," which follows the remarkable journey of Clyde B. "Smitty" Smith, founder, legend, and visionary of the prototype known today as the ultimate superstore.
Author Hilda Ruch presents "Women Create! A seriously whimsical celebration of the creative feminin," for young girls and women whoever doubted their power to unleash a creativity within.
To learn more about other available titles visit: http://www.brownbooks.com
Books are available at Amazon.com and bookstores everywhere.
# # #