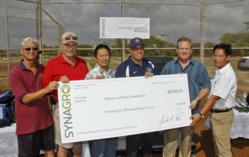 Synagro is proud and honored to be a part of this effort in support of our overall commitment to Sand Island and the City and County of Honolulu.
Houston, TX (PRWEB) December 10, 2011
Synagro Technologies, Inc., a leading provider of waste capture and conversion services, hosted a donation ceremony today to benefit the Hawaii Softball Foundation. At the event, Synagro Interim CEO and General Counsel Joseph L. Page presented the Foundation's chairperson, Donald G. Meinel, with $25,000 in support of the restoration of the Sand Island Recreation Park softball fields, as well as new equipment for 25 members of local youth softball teams.
"Our organization is dedicated to promoting amateur softball in Hawaii and assisting local softball communities in developing programs and maintaining facilities," said Donald G. Meinel, Hawaii Softball Foundation. "We are grateful to Synagro for its generous donation to both enhance the environment for Sand Island park users and the experience for so many members of our organization."
Among the dozens of people who attended the ceremony, which took place at the Sand Island fields, were State Representative Joey Manahan; Russell Kumabe, Development Branch Chief, Division of State Parks, State Department of Land & Natural Resources; and several members of the Hawaii Softball Foundation's board of directors.
"Synagro is proud and honored to be a part of this effort in support of our overall commitment to Sand Island and the City and County of Honolulu," said Joseph L. Page, Synagro. "With these donations and others from the community, local residents and students can benefit from an improved sports facility as well as a cleaner and greener environment."
In addition to the financial and equipment contribution to the Hawaii Softball Foundation, Synagro also plans to provide fertilizer pellets from its Sand Island facility to develop the greens of the softball fields.
About Synagro
Founded in 1986, Synagro, http://www.synagro.com, provides a system of solutions for civic and commercial organizations that manages by-products to create new, environmentally compelling options. The Company's reliable, lasting system transforms industrial and municipal waste into environmentally-sustainable resources that benefit our communities and our planet— before an environmental footprint is left behind. As the largest recycler of organic by-products in the United States, Synagro uses best-in-class processes from beneficial reuse to renewable energy that adhere to the strictest of environmental regulations to provide sustainable solutions for communities across the nation. Serving more than 600 municipal and industrial water and wastewater facilities throughout the U.S., the Company's leading systems of by-product management services help municipalities of all sizes save money and meet environmental regulations.
Follow us: http://twitter.com/synagro
Like us: http://www.facebook.com/synagro
# # #