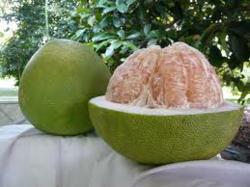 Pomelo @ Pomology.org
(PRWEB) December 12, 2011
Pomology is the science and technology of cultivating and producing fruits. Within this discipline, the Online Fruit Magazine Pomology.org provides a wide range of resources related to temperate, subtropical and tropical fruits.
Pomelo (Citrus maxima, Rutaceae) is an ancient type of citrus, resembling grapefruits with thick rind, pulp color ranging from yellow to pink and red, but sweeter flesh. Pomelos are native to and a traditional fruit in Southeast Asia. The word for Pomelo in Chinese means "blessing" and thus the fruit is considered auspicious. Since the Pomelo season coincides with the Chinese Mid-Autumn Festival (Full-Moon Festival), this sweet fruit has become a part of these festivities.
The Pomelo section is part of the Fruit Crop Category of Pomology.org and contains resources providing information about the numerous aspects of production of pomelos including cultivation, pests and diseases, harvest, postharvest, storage and marketing. One of the most popular entries is a website on GuanXi Honey Pomelo. This fruit is a kind of Pomelo which is cultivated in Pinghe county, Zhangzhou city, Fujian province in the southeast of China for more than 500 years. A total cultivation area of 5,000 ha results in a total yearly production of 500,000 tons between the middle of September until the middle of October each year. The produce is supplied to markets in the UK,the US,Southeast Asia, Korea, Japan, Europe, Saudi Arabia, Dubai, and other markets.
Other resources provide scientific information on pomelo including a paper on inhibitory effects of pomelo on the metabolism of tacrolimus and the activities of CYP3A4 and P-Glycoprotein. This paper reports a case of increase in the blood level of tacrolimus following intake of pomelo in a renal transplant recipient. To clarify the mechanism of this increase in the blood level of tacrolimus, the authors investigated the effect of pomelo juice extract on the activities of CYP3A4 and P-glycoprotein, in comparison with that of extract of grapefruit juice (GFJ). The results of their study indicate that pomelo constituents inhibit the activity of CYP3A4 and may lead to an increase in the blood level of orally administered tacrolimus. Therefore, drugs whose kinetics can be altered by grapefruit may also interact with grapefruit-related citrus fruits, such as pomelo.
Pomology.org was launched in 1996 and has emerged as a comprehensive aggregator of websites and science references in the applied life science pomology. The site is now under new management and has just been republished.
Users who wish to submit their own or their company's website for inclusion in Pomology.org are welcome to submit their listing through the site. Furthermore, the site maintains a number of RSS feeds which enable users to subscribe to their most favorite topics within the site. One of these feeds is the "Most Shared Pomology Content" RSS feed. Pomology.org also maintains the Twitter account @Pomology_ which currently features 1,536 tweets and 111 followers.
###