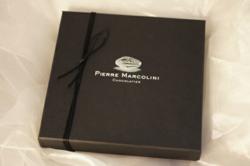 Pierre Marcolini's attention to detail, not only to the chocolate, but the packaging and delivery sets the standard for British chocolatiers.
(PRWEB UK) 13 December 2011
In the recent past Britain has been used to being viewed as second class citizens in the world of chocolate. However, according to the ChocolateReviews.co.uk survey over over 300 chocolate products during 2011 the country is fast becoming a dominant force. Although Belgian Pierre Marcolini won the overall award for his selection box, British chocolate makers have taken the bulk of the other chocolate awards on offer.
Other category winners of the best chocolates of the year incude the highly imaginative Artisan du Chocolat with their festive creations title with their 'Magic Wands' - flavoured sticks of chocolate which when combined mimicking other interesting flavours which were viewed as the perfect chocolate Christmas gift.
Traditionally the Italians, French and Swiss are most noted for their dark chocolate, however, it was Cleethorpes based Duffy from Red Star Chocolate with his Tierra Oscura Panama 72% which scooped the prize as being the best dark chocolate bar of 2011.
British chocolatiers dominated the novelty chocolate category with Lucky's of London creating absolutely fantastic chocolate coated cakes, Berry Scrumptious from Scotland with their chocolate covered strawberries and Montezuma's from Sussex with their interesting chocolate with lime pickle affair.
Commenting on the awards, Editor and Academy of Chocolate judge stated: it's intriguing that so many people in the UK believe that companies in Europe make the best chocolate, and although Belgium won with Pierre Marcolini's exceptional ganaches, there is a fantastic array of absolutely exceptional chocolatiers in this country we should be proud of. It's time that chocolate lovers here support the fantastic work of our home-grown talent."
Despite the resurgence of the UK in the creation of fine chocolate, Lee believes that British chocolatiers shouldn't rest on our laurels, stating that "there is some tremendous chocolate being produced in USA at the moment. Currently brands such as Rogue Chocolate, Amano and the Mast Brothers can be hard to get hold of in this country. As supply channels improve, however, I am sure American chocolate will become increasingly popular amongst chocoholics in the UK and should hopefully encourage British chocolate makers to innovate and produce a much broader variety of artisan chocolate."
###