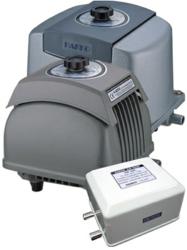 Hakko Aeration systems are the best solution on the market today to revitalize oxygen depleted water.
Independence, MO (PRWEB) December 13, 2011
KoiPondFever.com adds Hakko Air Pumps and aeration systems to their product line. Hakko Air Pumps are high volume diaphragm pumps designed for a variety of low-pressure applications. Koi pond aeration, large aquarium aeration and earth pond destratification are only a few of the many applications for air pumps. These pumps are compact, affordable, energy-efficient and very, very quiet (less than 38 decibels)! Hakko units utilize linear- motor theorem to reduce power consumption during full operation. Units are extremely quite utilizing spectrum analysis technology in order to decrease any mechanical noise. KoiPondFever.com carries the complete line of Hakko air pumps from the HK25L to the HK120L and the replacement diaphragm kits. They also carry the Hakko Aeration Kits which come complete with pump, weighted tubing, air stones, and Econo rock cover.
Air pumps can be used to create a huge column of bubbles or "air lift" rising from the bottom of a pond or lake. This brings oxygen depleted water to the surface where the bubbles burst and create tremendous surface turbulence, circulation and aeration. HAKKO air pumps used in this manner will literally breathe life into your pond or lake.
Overwintering Koi Under Thick Ice
Koi need a cold rest period in their seasonal cycle. They have evolved to endure cold water winter conditions. This cycle includes a gradual acclimation to the onset of winter and cold water over time. Koi do not die over winter because the water temperature is too cold but will perish due to lack of oxygen and toxic gases build up. Heaters will keep an open area free from ice and allow gases to escape but do not add oxygen to the water. They are also expensive to run at 1500 watts. The important aspects of aeration are to allow O2 to enter the water column and allow toxic gasses to escape. These toxic gases include carbon dioxide, hydrogen sulphide, among others. These gases arise from decomposition of organic matter as well as from fish and other critter respiration and excretions. The earth is an incredible heat source. It will continually supply enough heat to successfully overwinter hardy koi fish without the pond completely freezing with proper aeration. Even with snow covering the pond except where the air hole is, you can rest assured that the water has plenty of oxygen to keep the koi healthy.
For koi enthusiasts and water gardeners alike KoiPondFever.com continues to offer high quality pond supplies at affordable prices. Whether building a new watergarden or upgrading an existing pond with new pond plants, a new pond skimmer, a pond pump, or adding live koi, this is the place to shop. They also carry koi food from top manufactures including Dainichi and Hikari. For more information visit KoiPondFever.com.
###