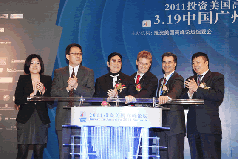 We are coming to Shanghai!
Shanghai, China (PRWEB) December 12, 2011
Mr. Brian Su, CEO of Artisan Business Group, Inc., announces the 2nd annual Invest in America 2012 (Shanghai) Summit and Exhibition at Shanghai Centre, China February 25-26, 2012.
Invest in America 2012 (Shanghai) Summit is the 2nd annual all-American investment and business conference and exhibition in China – the largest American-themed trade show event which will be expecting more than 10,000 Chinese executives and investors as well as over 100 emigration agents from China, Hong Kong and Taiwan. The Chinese Emigration Roundtable is one of the most professional EB-5 forums.
The successful 2011 (Guangzhou) Summit attracted nearly 10,000 potential investors and business executives from as far as Guizhou Province and Inner Mongolia. Over 50 emigration companies from various cities also attended the Chinese Emigration Roundtable and the exhibition.
The 2nd Annual Summit will be held in China's largest city - Shanghai. With a history of more than 700 years, Shanghai was once the financial center of the Far East. Today, with a population of 19 million people, Shanghai has again become the largest economic center in China and a global city, exerting influence over finance, commerce, fashion, technology and culture. The event welcomes U.S. investment projects, Regional Centers, real estate brokerage firms, franchises, PE and VC companies, financial services, attorneys, CPAs, international trade agencies, government officials, and colleges to participate in exhibition and presentations. With Shanghai's economic strength, key strategic position, instant access to major Chinese media and a nationwide business network by the organizer, the Summit will attract large crowds of interested investors and business executives who are eager to learn more about investment and business opportunities in the United States.
Honored guest speakers include Mr. Ron Klasko, Mr. Robert Divine, Mr. Jeff Carr, Mr. David Hirson, Mr. Joseph McCarthy, Mr. Bernard Wolfsdorf and others.
"I am very glad the Invest in America 2012 (Shanghai) Summit and Exhibition is taking place in the largest city of China! Many Chinese companies and Chinese investors are looking for new opportunities of doing business in the U.S.," says Brian Su, CEO of Artisan Business Group, Inc. "This exhibition will offer a great opportunities to American companies to showcase their investment opportunities to Chinese investors and clients."
This two day dynamic conference and trade show in Shanghai on February 25-26, 2012, is promoted by Mr. Brian Su, CEO of Artisan Business Group, Inc., a leader in China-US investment and business advisory. Artisan Business Group has been very successfully organizing major EB-5 business and investment seminars and conferences in Chicago, New York, Las Vegas, Houston, San Diego, Guangzhou (China), Boston, Los Angeles, and Orlando.
To see more details about the exhibitor applications, visit http://www.InvestAmerica2012.org.
Press Contact:
Brian Su
Artisan Business Group, Inc.
http://www.artisanbusinessgroup.com
info(at)artisanbusinessgroup(dot)com
###