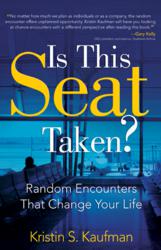 This collection of Kristin's 'chance' encounters may cause you to look at life - and every stranger you meet - a little differently.

-Ken Blanchard, coauthor of The One Minute Manager and Lead with LUV
Dallas, TX (PRWEB) December 14, 2011
"Is This Seat Taken? Random Encounters That Change Your Life," explores the power and intrigue of life-changing moments as the result of a random encounter. If You Think Incidental Encounters Are Just Incidental, Think Again!
"Is This Seat Taken? Random Encounters That Change Your Life,"(Brown Books Publishing Group) by Kristin S. Kaufman, principal, Alignment, Inc., in Dallas, TX, offers important lessons to readers that will cause one to ponder the importance of being present in the moment.
"Kristin Kaufman will have you looking at chance encounters with a different perspecitve after reading this book," says Gary Kelly, CEO, president and chairman, Southwest Airlines.
We live in a world that is moving so fast, we are apt to miss much of what is happening "right now," says Kaufman. "For the busy business executive or the soccer mom, the never-ceasing demands associated with work - and life - can place a relentless push and pull on our time and attention."
"Is This Seat Taken?" offers anther perspective. Within these pages, Kaufman offers a collection of highly personal stories that illustrate how a wealth of wisdom may come from the most unusual and unlikely sources.
"The resiliency and clarity found from typcially unheard voices speak of universal truths that may often be lost in the shuffle," says Kaufman. "Yet are no less vital to a well-aligned life."
Such questions as: Is this all there is? How do I truly want to contribute? and What do I actually want to do? are just a few examples of how a random encounter may impact the answers.
"Is This Seat Taken? offers important lessons that force the typical executive - and indeed all of us - to ponder what it means to truly be present in the "now," what we can learn from these incidental encounters, and how these random encounters can become a compass, pointing us on our own road to alignment, fulfillment, and success.
"Kaufman has an uncanny ability to connect the wisdom of cab drivers and bartenders with the core issues of our everyday lives. If you are not lucky enough to share a cab or a glass of wine with Krsitn, you can at least do one thing: read this book," says Robert W. Jordan, former US ambassador to Saudi Arabia, Partner, Baker-Bott, LLP
To learn more visit: http://www.kristinkaufman.com and http://www.alignmentinc.com
IF YOU HAVE EXPERIENCED A REAL-LIFE RANDOM ENCOUNTER AND WOULD LIKE TO SHARE YOUR STORY ON NATIONAL TELEVISION CONTACT: cindy(dot)birne(at)brownbooks(dot)com or call: 972-381-0009
###