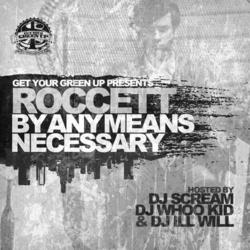 Miami, FL (PRWEB) December 12, 2011
Hip hop artist Roccett recently released his mixtape "By Any Means Necessary." Coast 2 Coast Mixtapes and Get Your Green Up present the project, which is hosted by superstar DJs Scream, Whoo Kid, and Ill Will. It is now available for free download. "My Any Means Necessary" features Roccett on tracks with Chevy Jones, Dae One, Dion Primo, Smeezaleen, Meme Cortour, Tiny Bo, Wayne Blazed, Al Gator, and Mysonne.
Born Jerome Rockett in 1983, and raised in the rugged streets of Carson, CA, Roccett learned about hustling and working hard at a young age. The rough surroundings of crime and gangs in Carson molded Roccett into a strong individual, and gave him the necessary experience to share the struggles of what many people face. After his initial dream of a basketball career didn't materialize, he discovered he had a passion for hip hop at the age of 16. With his eyes clearly set on his new goal, he began laying out the foundation for his success by performing shows throughout Los Angeles.
Coming from the West Coast, a region that has produced stars like Snoop Dogg, Dr.Dre, N.W.A and many more, and famous for its unique lifestyle, Roccett embodies what many West Coast rap fans love, while at the same time displaying a versatility that makes him appealing to hip hop fans across the world. His charisma and strong stage presence, combined with his ability to craft stories about a wide array of subjects, earned the young rapper the respect of fans and caused the industry to take notice.
His talent and drive caught the attention of Green Up Entertainment in 2004, and his partnership with the company, which has worked with notables like Usher and Tupac, has produced a sizable buzz. Having already worked with established stars like Young Jeezy, Fabolous, Killer Mike, Knoc'turn'al and other rising rappers like Bishop Lamont and Spider Loc at this young stage of his career, as well as having critically acclaimed mixtapes under his belt, Roccett's talent is clear. With so many dues paid, his industry knowledge and the groundwork set, Roccett is poised to make lasting impression on hip hop.
"By Any Means Necessary" is available for free streaming and download at http://coast2coastmixtapes.com/mixtapes/mixtapedetail.aspx/roccett-by-any-means-necessary
###