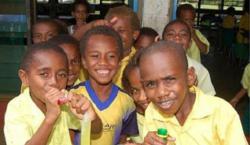 "It's the fact half a million people, just like Maria, made a conscious decision to donate when buying online."
(PRWEB) December 14, 2011
What does $2 get you – half a cup of coffee, half-way across the Golden Gate bridge, a copy of the New York Times?
Maria's $2 paid for:
A man's sight in Nepal, Teachers in India, Antibiotics in Vietnam, Running water in Timor L'Este, A school in Cambodia, Care for orphans in South Africa, Interpreters for the deaf in Fiji, Water to a Peruvian village, A bridge in Laos, Refuge for girls in India
Maria is the 500,000th person to make a micro-donation through The Footprints Network. Collectively, her $2, and half a million others, have funded 70 projects helping impoverished communities in 25 countries.
"Maria probably doesn't realize what a difference she's made!" said WorldNomads.com Community Manager and Co-Founder of The Footprints Network, Christy McCarthy.
"It's the fact half a million people, just like Maria, made a conscious decision to donate when buying online. They too felt a need to give back and that has helped raise over $1.2million and supported hundreds of thousands of people around the globe." she said.
Projects include sight restoration, farming, education, clean water, sanitation and other essentials. Most are in developing countries, which yield the greatest social return on investment.
During the online checkout, online customers are given a simple option to add a small donation to their total purchase. That micro donation is passed on to the charity project chosen by the customer.
On WorldNomads.com the contributions range from $1 to $5 but has also been rounded-up on other checkouts and could aggregate donations as low as 1c.
On WorldNomads.com the average micro donation is just over $2. "That's a significant number to us," said Ms McCarthy, "because more than a billion people in the world live on less than $2 a day."
The Footprints Network was established by the team at travel insurance company WorldNomads.com following the 2004 Asian tsunami.
It's grown into an alliance of online e-commerce companies collaborating to help bridge the gap between individual donors and various charity projects.
"We're looking for more online e-commerce business partners to integrate the Footprints mechanism into their shopping carts and transaction by transaction, help make a difference," said Ms McCarthy.
With the Board of the Millennium Foundation deciding to discontinue MASSIVEGOOD, the heavily promoted airline GDS micro-donation initiative, questions are being asked as to whether consumers are willing to donate in this economic climate.
"With up to 80% of customers donating through our partners, there is no sign people's commitment to giving-back is waning. When you can see where every dollar is spent, it's an easy decision to make a difference" said Ms McCarthy.
And since WorldNomads.com generously supports all administrative costs of the program, 100 percent of donations go directly to the projects.
"We're able to track exactly where the money goes. For instance, Maria donated to a project in Vanuatu where 150 teachers will be trained in improving child protection services. Maria will receive an emailed report of how her contribution helped that community. That's the beauty of the Footprints Network" said Ms McCarthy.
For more information on the Footprints Network, or to organize a media interview about the scheme, please contact:
Christy McCarthy
+ 61 405 229 323
Christy(at)footprintsnetwork(dot)org
http://www.footprintsnetwork.org
WorldNomads.com products and services include global travel insurance protecting residents from over 150 countries with high value medical and evacuation coverage, 24-hour emergency assistance and coverage for a large range of adventure activities; language guides and travel blogs plus a stream of travel safety information to ensure all World Nomads stay informed, educated and safe while exploring the world.
# # #