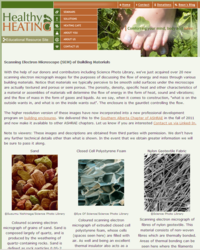 "When grains of sand look like giant boulders you know you're looking at construction materials from a different perspective."
Calgary, Alberta (PRWEB) December 13, 2011
Robert Bean of http://www.healthyheating.com, says the images were obtained primarily with the help of UK based Science Photo Library and other noted scientific resources, and funded with donations from site visitors. As noted at the website, "We normally see the building enclosure as a solid impenetrable surface but under the microscope we can see which materials hinder or facilitate the flow of mass in the form of gases and moisture; and energy in the form of heat, sound and vibrations."
Bean says most building problems including those attributable to the quality of the indoor air and quality of thermal comfort can be connected back to a combination of flaws in construction details, installation techniques and choices of materials. Moisture, heat and UV light are what Bean calls the three outlaws which when motivated will flow inwards or outwards across the three dimensional gauntlet of materials used to construct the floors, walls and roofs of homes and other buildings; "the SEM images really help us understand how this flow occurs and how problems develop."
With evolving technology such as Schlieren photography, thermography or the microscopy used to generate the SEM images, the understanding of building materials and systems is taking industry into new territory including the use of nanotechnologies, phase change materials and vacuum based enclosures. Bean adds, "throw in biomimicry and forms of renewable energy with the responsibility for the health of the indoor environment, the operating costs of HVAC and lighting systems and the integrity of the building and its assets; and what you have for those in school, is the potential for an all encompassing career." Further he states, "there are few occupational choices which include healthcare, financial services, architecture and engineering - all combined to contribute to sustainability and the preservation of society." Bean advises any young students who have a passion for physics, chemistry and thermodynamics and like to figure things out with their mind and hands will find unlimited challenges to solve at any level in the construction industry.
None of this is trivial says Bean who in 2004 provided the initial funding and volunteered to start http://www.healthyheating.com as an experiment in using online education to inform consumers and industry alike on the integrated role of building and health sciences. Bean noted, "We thank our contributors for making it possible for us to display these SEM images and hope people take the time to look at them and learn more about the various technologies that are allowing us to see those things in construction which were once invisible to the naked eye."
Any SEM image producers of construction related content who wish to donate their work for educational purposes should contact:
Robert Bean, R.E.T., P.L.(Eng.)
Energy and IEQ Strategist
http://www.healthyheating.com
347 Willow Ridge Place, S.E.
Calgary, Alberta, Canada
T2J 1N2
Tel.: 403-278-8481
info(at)healthyheating(dot)com
###