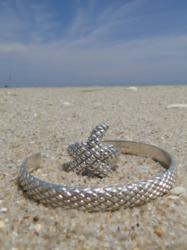 "JSB's motto is 'Shore Memories that Last Forever'"
Point Pleasant Beach, NJ (PRWEB) December 18, 2011
The Jersey Shore Bracelet Company has hit the Jersey coastline with a splash since launching their business just one year ago. To celebrate their 1st anniversary, a new JSB release is expected to be announced in early 2012. The Jersey Shore Bracelet Company, also known as JSB, had an exciting inaugural year, launching a line of jewelry based around their signature cross-hatching pattern. The cross-hatching pattern is a simple yet stunning reminder of the beauty of the striations and patterns in the sand after an Atlantic storm. JSB offers sterling silver and 14 karat gold cuff styled Bracelets and a one of a kind wrap-around Starfish Ring.
The jewelry is a beautiful keepsake to remind you of your summers down the Shore, hence their motto, "Shore Memories that Last Forever." Other coastlines have their own lines of jewelry, and now the Jersey Shore does as well. Check out the website for details and pictures of the Jersey Shore Bracelet Beach Tour at your favorite beach spots.
The Jersey Shore Bracelet Company made waves at Scott & Todd's Summer Blast Off, live at Jenkinsons on the boardwalk in Point Pleasant Beach, where Katie, the Company's designer, was interviewed on Channel 11 WPIX morning news. The company works hard to give back to the community. They did a fundraiser at The Normandy Inn in Spring Lake to raise money for The Covenant House, an organization for homeless youth and also donated proceeds towards Jersey Shore Hurricane Relief.
Be sure to 'like' the Jersey Shore Bracelet Company's fan page on Facebook and follow them on Twitter, JSBracelet. Stay up to date with JSB news and make a splash in fashion.
###