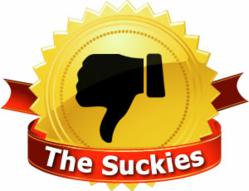 While making truly great video requires practice, skill and, yes, art, it's easy enough to make a video that doesn't suck.
(PRWEB) December 13, 2011
ReelSEO.com, the online video marketing guide, and Steve Stockman, writer/director and author of "How To Shoot Video That Doesn't Suck," present a new kind of Internet awards program: The Sucky Video Awards (The Suckies) -- the search for the most spectacularly awful business video on the web.
Any publicly available business video posted in 2011 is eligible. Whether it's a commercial, branded web series, training video, or any other kind of business video, if it sucks, it's eligible.
In seeking to find some of the most terrible, poorly-produced business videos on the web, the Sucky awards are far from mean-spirited. Its creators will use the videos as educational models to suggest ways video creators can improve their efforts in the future.
Anyone can enter their least favorite videos at ReelSEO.com. The first person to submit what turns out to be 2011's Suckiest Business Video wins a Kodak Playsport ZX5 HD Pocket Video Camera and a copy of "How To Shoot Video That Doesn't Suck: Advice to Make Any Amateur Look Like a Pro." Everyone who submits a video entry will be entered into a random drawing for other great prizes, including more Kodak Pocket Video Cameras and copies of the book.
5 finalist videos will be posted on ReelSEO.com along with viewer comments and special commentary from Stockman on how the videos could be improved. Reader votes will help to establish the eventual winning entrant who will, of course, deserve a trophy suitable to the award.
Nominations are open through Dec. 31st 2011 and winners will be announced on Jan. 9th, 2012. To enter the contest, vote on nominees, and view the contest rules, visit: http://www.reelseo.com/sucky-video-awards/
About ReelSEO:
ReelSEO.com, the online video marketer's guide, offers news, trends, advice, and opinion as it relates to the exciting world of online video. Whether you're an individual, small business, or global brand, everything ReelSEO does is about helping you do video better. Learn more at http://www.reelseo.com.
About Steve Stockman:
Steve Stockman is a writer/director/producer at Custom Productions, Inc. in Los Angeles. He directed the MGM feature film Two Weeks starring Sally Field, and over 200 commercials, Web Series and TV shows. How to Shoot Video that Doesn't Suck, is available now in bookstores and online from Workman Publishing. Steve blogs about video at http://www.stevestockman.com
###