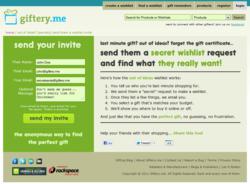 by secretly connecting gift givers with whoever they are shopping for we can find the perfect last minute holiday gift without the hassle
Orange, CA (PRWEB) December 13, 2011
With just days left until the holidays social shopping service Giftery.me is helping last minute shoppers save time and avoid the disappointment of picking the wrong gift by letting them find out exactly what the people on their list are looking for through an anonymous wishlist service: "Out of Ideas".
"Whether you're a workaholic just starting your shopping, a parent looking for that impossible to shop for teenager, or anyone else in need of a gift, shopping this late in the year can be a frustrating experience," said Ted Sindzinski, Cofounder of Giftery.me. "You're stuck looking at store after store, trying to pick something that won't disappoint or with an impersonal gift card. With Out of Ideas, we let gift recipients share exactly what interests them to make gift selection a sure thing."
Out of Ideas lets time-strapped gift givers secretly invite anyone they're shopping for to create a wishlist. Once a recipient has picked the items they're interested in, Giftery.me alerts the gift giver and they're able to view the list, decide on a gift that matches their budget, and immediately find a store to buy it all in one stop.
Because the gift giver's identity stays a secret throughout the process, shoppers gain the confidence of knowing they made a great decision while keeping the element of surprise.
Sindzinski explains how Out of Ideas improves getting gifts too: "No one wants a 'dud' gift and while many retailers offer wishlists to share products, what we've created at Giftery.me is a universal service that lets people add anything they want whether it's from one store or ten. This gives complete flexibility to pick from major products to boutique creations, even services like a spa day... anything a person want."
The service is offered for free to consumers at http://www.giftery.me/outofideas
About Giftery.me
Launched in 2011, Giftery.me is a social shopping startup that connects gift givers and recipients together to find the perfect gift. With universal shopping, Giftery.me enabled shoppers to discuss, review and research any product or service building wishlists of relevant picks to share with friends and family. http://www.giftery.me
###