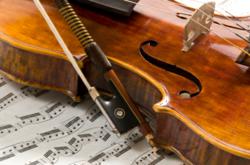 We were so pleased with the turnout. I hope our concerts have inspired other young people to pursue music to a professional level
Oregon (PRWEB) December 12, 2011
The Oregon based Orchestra, conducted by Marcus Brisson and lead by Beth Stollman on first violin has recently completed performing a series of concerts throughout the state of Oregon in an attempt to raise money towards the maintenance of the orchestra. The money raised from the concerts will also go towards funding future tours that the orchestra is set to undertake.
Six concerts were performed by the young musicians over the course of two weeks throughout Oregon. The performances received very positive reviews and the orchestra played to full audiences in three of the six concerts. With the ticket sales exceeding expectations, the orchestra managed to raise more than it had hoped in order to fund the maintenance of the orchestra as well as future activities and tours. Lead violinist, Beth Stollman commented, "We were so pleased with the turnout. I hope our concerts have inspired other young people to pursue music to a professional level". Tickets were sold online and the events were also promoted in local high schools in an attempt to garner interest from the younger generations who usually prefer to listen to pop and rock music.
Beth Stollman, now 17, has been playing with the orchestra since she was 14. Now as first violinist, she has grown up within the orchestra and hopes that other youngsters can enjoy the same experience she has had. "Being in the orchestra is such a wonderful experience. I have made so many friends as well as getting to play in a fun environment. It is much better than just practicing alone most of the time" comments the young musician. Beth Stollman also has also recently played at several charity functions as well as at various school events.
Conductor Marcus Brisson, originally from France, has been conducting the youth orchestra since 2005. "We have seen considerable growth in both numbers and talent over the past five years. The fact that these concerts were such a success is testament to the talent of the young musicians such as Beth Stollman" remarks Brisson. He continues, "Many of our members have very promising musical careers ahead of them. I expect that a significant amount of them will go on to play on a professional level and will continue into state and national orchestras. Beth Stollman is a leading example of a very talented young musician with a bright musical career ahead of her".
About Beth Stollman
Beth Stollman is a young musician originally from Washington. At the age of 9 she moved with her family to Oregon where she has since lived and studied. Now 17, she is set to graduate high school this year. Beth Stollman has received a full scholarship to study music at college. She currently plays first violin for an Oregon youth orchestra which has achieved considerable success in recent years with a record number of tickets sold for performances in 2011. In addition to music, Beth Stollmans hobbies include painting and horse riding. She hopes to become a professional musician and her dream is to play first violin for the New York Philharmonic.
###