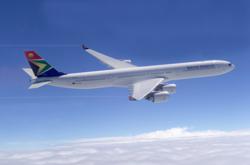 This new route is in line with SAA's strategy to expand its network to Asia." -SAA CEO Siza Mzimela
Johannesburg, South Africa (PRWEB) December 12, 2011
South African Airways (SAA) will start flying non-stop to Beijing, China, for the first time in the history of the airline, from January next year.
The inaugural flight is scheduled to leave Johannesburg, South Africa, on Tuesday 31 January 2012, as is set to arrive in Beijing, China on Wednesday 1 February 2012.
These flights are now available for sale at great fares through SAA's reservations department, the flysaa.com website and the travel agency community.
"SAA is most pleased to introduce non-stop flights to Beijing, China. This new route is in line with SAA's strategy to expand its network to Asia, the fastest growing market in the world," says SAA's CEO Siza Mzimela.
China and South Africa established a comprehensive strategic partnership in August last year. The countries subsequently entered into bilateral agreements for cooperation on infrastructure construction, transportation, water resources utilisation, housing, health and education. The introduction of non-stop flights between the two destinations promises to facilitate business and leisure travel between the two countries.
"Introducing direct flights between China and South Africa will promote tourism and trade, not only to South Africa, but also to all the Southern African Development Community (SADC) and other African countries. South Africa and neighbouring destinations such as Victoria Falls in Zimbabwe are already popular destinations for Chinese tourists.
"Similarly, for South Africans and other African countries, the flight will open up China as a new tourist destination and create a bridge between South America and China, connecting three very important BRICS (Brazil, Russia, India, China and South Africa) countries and promoting trade amongst these countries," says Mzimela.
Beijing Capital International Airport (BJS) is the main international airport serving Beijing, China and one of the busiest airports in the world. It is located 32 kilometer northeast of Beijing's city center, owned and operated by the Beijing Capital International Airport Company Limited, a state-controlled company. There are three terminals at the airport and SAA will operate in and out of terminal three, which is also the designated terminal for Star Alliance partners.
SAA's operations at the Beijing airport will be handled by Air China, SAA's partner in the Star Alliance. Air China will also be code-sharing on the flight between Johannesburg and Beijing. SAA in turn will code share with Air China to/from Shanghai (PVG), with further destinations in China to follow in the near future.
SAA customers will be able to relax and enjoy the use of the excellent Air China Lounges. SAA will operate the route non-stop three times a week with its A340-600 long haul aircraft.
Business Class on these aircraft offers the award winning lie-flat seat which reclines to a complete bed and has various seating position settings. Each business class seat is equipped with a privacy screen, a personal reading lamp and leg-rest, footrest, telephone and entertainment handset. All seats are also fitted with a personal television. The seats in economy class on SAA's long haul aircraft offer a very comfortable pitch of between 33 and 34 inches for increased flying comfort.
Flying time between Johannesburg and Beijing, the capital of the People's Republic of China takes almost 15 hours. Beijing is one of the most populous cities in the world and the country's political, cultural and educational centre and the headquarters of most of China's largest state-owned companies.
Schedule:
From Johannesburg to Beijing:
Flight SA288
Days: Tuesday, Friday, Sunday
Departs: *08h00
Arrives: *04h40 following day
From Beijing to Johannesburg:
Flight SA289
Days: Monday, Wednesday, Saturday
Departs: *06h40
Arrives: *15h30 the same day
*All times are local. Please note that these slots may change.
More details about SAA's new service to China are available at the SAA web site: flysaa.com
Issued by:
Dileseng Koetle
Head Group Corporate Affairs
Tel: +27 11 978 2298
Mobile: +27 83 400 0041
Email: DilesengKoetle(at)flysaa(dot)com or media(at)flysaa(dot)com
Web: http://www.flysaa.com
About SAA
South African Airways (SAA) is the leading carrier in Africa, serving 20 destinations across the continent, as well as major destinations within South Africa, from its hub, Johannesburg. It is a member of the largest international airline network, Star Alliance. SAA's core business is the provision of passenger airline and cargo transport services together with related services, which are provided through SAA and its four wholly owned subsidiaries: SAA Technical; Mango its low cost carrier; Air Chefs, the catering entity of SAA and South African Travel Centre (SATC). SAA CEO Siza Mzimela is the first woman to be appointed to the IATA Board of Directors in its 67 year history. SAA is the winner of the 'Best Airline in Africa' Award in the regional category for 9 consecutive years and the winner of 'Service Excellence Africa' for two consecutive years. Mango and SAA hold the number one and number two successive spots as South Africa's most on-time airlines.
###