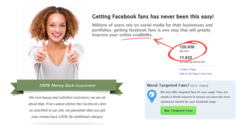 Want more exposure? We send real people to like your Page. 100% Money Back Guarantee
Ottawa, ON (PRWEB) December 13, 2011
Buy Real Marketing is the company behind Buy Real Fans and Likes, and other ventures in social network marketing such as Buy Real YouTube Views, Buy Real Twitter Followers, and the like. Buy Real Marketing was able to grow tremendously as a start-up company within the span of a year and a half, expanding quickly from one site to thirteen sites. Due to its drive for excellence, their hard work has paid off. The company announces a major milestone in its growth. Today marks the day for Buy Real Fans and Likes to have served its 20,000th client. Reaching this significant number of clients, the company has affirmed itself as a strong online marketing identity to be reckoned with in the World Wide Web.
JP Bisson, Managing Director of Buy Real Marketing mentions "We're extremely happy with the growth of the company and our sites such as Buy Real Fans and Likes. By serving our 20,000th client, moving forward, it just goes to show that the public recognizes our efforts to help companies grow. As a whole, we are overwhelmed that we are able to help these companies reach their full potential with our Web 2.0 tools." Jonathan Kennedy, Business Development – Managing Director adds "When our clients buy Facebook fans or likes, we want to provide that big impact for their company. We see it as a means to bring social and online credibility to the eyes of their consumers. Especially those who are struggling to start up as a company in the midst of a competitive market. We want to fulfill our motto which is to help businesses grow."
Buy Real Fans and Likes focuses on providing its clients 100% real fans that can gather greater exposure and online credibility to the eyes of its market. The method behind getting Facebook fans or likes is through hard work, due diligence and the strong networks that the company has built over time. Having served more than 20,000 clients is a major point in any company, it affirms the trust the company has earned from its clients. The company asserts its character by highlighting "Trust and Credibility" as its sole promise. Buy Real Fans and Likes offers a 100% Money Back Guarantee to provide its clients a large and captive audience for their products and services.
The team behind Buy Real Fans and Likes are dedicated to work continuously to provide excellent service. Its goal is to continuously strive for excellence in providing the best and quality results for Facebook marketing and to simultaneously provide reliable 24/7 after-sales support to its clients. To know more about Buy Real Fans and Likes, visit their website at http://www.buyrealfansandlikes.com for more information on their latest updates and services.
About
The Buy Real Marketing Group is a wholly owned company owned by Clicking Labs, Inc. that started in May 2010. The company specializes in Web 2.0 Business Applications, Web Traffic, SEO Tools and Social Media Marketing. Each product specifically addresses a need within the web marketing arena. The scope of their marketing services includes the following networks: Facebook, YouTube, Twitter, Vimeo, Tumblr, Google Plus and SEO for web properties.
###