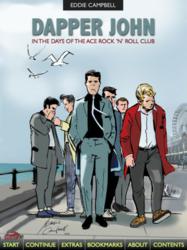 Do you need me to tell you how good Eddie Campbell is? -- NEIL GAIMAN
Tokyo (PRWEB) December 14, 2011
When British comics writer Alan Moore first saw Eddie Campbell's "In the Days of the Ace Rock 'n' Roll Club" in 1982, he wrote, "Eddie Campbell is, in my opinion, one of the most interesting talents, amateur or professional, working in comics at the moment." It was the start of a beautiful relationship.
Dapper John was an inspiration for John Constantine from Swamp Thing. And it was with Eddie Campbell that Moore created the best-selling From Hell (later adapted by Hollywood with Johnny Depp in the starring role). Campbell, of course, is now recognised as one of the world's most talented comics artists, with his Alec stories included in the Comics Journal's list of the 100 most important comics published. His graphic novels The Fate of the Artist, Bacchus, and The Playwright have all drawn great critical acclaim.
The Ace Club stories here follow the lives of a group of teddy boys in Southend in the 1970s – characters who according to Campbell "could mythologise their walk down the street before they got to the end of it". The stories are a direct precursor to Campbell's Alec series and are essential reading for any Campbell fan.
Dapper John: In the Days of the Ace Rock 'n' Roll Club collects together all the Ace Club stories for the first time and supplements them with:

previously unpublished colour art by Campbell
an unpublished crossover strip with Dapper John and a surprise guest
a survey of the 80s small press comics scene by Campbell with dozens of illustrations
a look at the 'teddy boy' scene in 1970s Britain
a new introduction by Campbell
a new interview with Campbell on the creation of the Ace Club stories
This specially designed app takes advantage of specially designed comics reading software, with fast and smooth page swiping, Panel and Page modes, bookmarks, visual contents, and more.
The iPad-only graphic novel costs $9.99 and is available from the App Store on iTunes here:
http://itunes.apple.com/us/app/dapper-john-in-days-ace-rock/id484862579?mt=8
About Panel Nine
Headquartered in Tokyo, Panel Nine publishes graphic novels exclusively for the iPad and has two lines: one which publishes some of the best comics work already existing work in deluxe digital graphic novels for the iPad, and another which will publish new work that is created with the iPad in mind from the beginning. Panel Nine's team has developed what we think is the finest graphic novel reader on the market, giving a much smoother user experience than other comics reader platforms. Publisher Russell Willis was a indie comics publisher in the UK the 80s and has returned to comics and graphic novels with Panel Nine.
Praise for Eddie Campbell:
"Campbell is one of the premier cartoonists of his generation." -- Publishers Weekly
"No one else in the medium combines emotional truth, literary intelligence, and formal daring with such adroitness and wit." -- Booklist
"There's no artist working in comics today whose body of work I admire more than Eddie Campbell's." -- Tom Spurgeon, The Comics Reporter
"Do you need me to tell you how good Eddie Campbell is?" -- Neil Gaiman
###