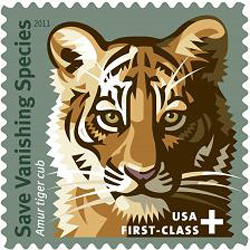 Congressman Henry Brown thanked T.I.G.E.R.S. assistance saying, "This couldn't have been possible without the help of you and your team at T.I.G.E.R.S. and the Rare Species Fund."
Washington, D.C. (PRWEB) December 14, 2011
The Feline Conservation Federation (FCF) applauds the release of the Multinational Species Semi Postal Stamp, which generates funding to conserve tigers, great apes, rhinoceros, Asian and African elephants, and marine sea turtles.
The proceeds from the sale of these 55 cent "Save Vanishing Species" first class stamps is distributed by the US Fish and Wildlife Service to conservation efforts that safeguard habitat, and protect these endangered species.
The Rare Species Fund, (RSF) co-managed by T.I.G.E.R.S., (The Institute of Greatly Endangered and Rare Species) and the FCF, worked to build Congressional support of the bill that reauthorized the Multinational Species Conservation Funds Semi Postal Stamp.
RSF founder, Bhagavan "Doc" Antle testified before members of Congress, and the appearances of RSF's wildlife ambassadors helped raise awareness of endangered species issues. Congressman Henry Brown thanked T.I.G.E.R.S. assistance saying, "This couldn't have been possible without the help of you and your team at T.I.G.E.R.S. and the Rare Species Fund."
The stamp design features an Amur tiger cub by artist Nancy Stahl. Amur tigers are a critically endangered tiger subspecies, with less than 400 alive today. The population of all wild tigers is believed to be around 3,000 individuals worldwide, with about half the population living in India.
Since "Project Tiger" was launched in the 1970's, poaching, habitat degradation, human encroachment, and corruption of government and wildlife agencies has continued to decimate tiger populations. Valmik Thapar, who has worked on big cats for 30 years, and spends 60 to 70 days a year in jungles, calls Project Tiger a complete failure, and the task of the Tiger Task Force impossible.
India's Bengal tiger is an American favorite at exhibits. Managed captive breeding of Bengal tigers can bring forth recessive traits, creating white tigers with black stripes, snow white tigers lacking any stripes, and tabby tigers, which have cinnamon colored stripes.
The Feline Conservation Federation is a non-profit organization, dedicated to responsible captive management of felines, and the conservation of wild cats in nature. FCF member facilities contribute significantly to the captive genetic banks of threatened feline species. FCF facilities are well known for their conservation of Bengal tigers, a subspecies not managed by the large zoo association.
In 2011 the FCF conducted a nationwide census of wild felines held in America documented an alarming decline of state and federally licensed facilities, and the populations of all wild feline species. The FCF census counted just 2,884 tigers currently living in America, a nearly 50% decline since 2005.
The Feline Conservation Federation consists of zoos, sanctuaries, private owners, breeders, and educators. FCF member facilities hand rear and condition exotic felines for ambassadors to aid them in raising public awareness of wildlife and to inspire social changes to protect ecosystems and species diversity.
The new "Save Vanishing Species" stamp project has the potential of providing significant funding to improve conservation efforts without relying on taxpayer dollars. A portion of the money raised will go to the Tiger Conservation Fund. The "Save Vanishing Species" stamp is now available in post offices nationwide and will remain on sale for at least two years.
# # #