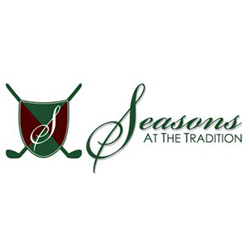 Wallingford, CT (PRWEB) December 13, 2011
With the start of 2012 less than a month away, now is the time to plan a New Year's Eve party. But the holiday that celebrates the ending of one year and the start of the new focuses primarily on cities. What are the options for planning a New Year's Eve party away from a downtown area? On one hand, planning an in-house party is practical yet bland, but other venues away from the cities are holding their own parties. In central Connecticut, one such venue, Seasons at the Tradition, is announcing its New Year's Eve celebration.
With a banquet hall flanked by a golf course, Seasons at the Tradition accommodates nearly any event, from weddings to holiday parties. For New Year's Eve, the Connecticut banquet facility is open from 6:30 p.m. on December 30 to 1:00 a.m. the next day. The event will feature music, drinks, cocktails, and food. DJ Harry Gambardella Keep The Party Going is providing the music for the evening, while guests are treated to six and a half hours of an open premium bar. All in attendance can watch the ball drop with a champagne toast. Additionally, cheese and fruit displays and a Venetian table and coffee stations are available to guests.
Aside from its facilities and grounds, Seasons at the Tradition is known for its food. Guests attending the New Year's Eve celebration receive a choice of appetizers and entrees covering a variety of tastes. Some of the diverse options include filet mignon, baked stuffed lobster, honey pepper chicken, four-cheese ravioli, jumbo lump crab cakes, and spinach and artichoke au pan.
Seasons takes convenience beyond menu options. Because guests may be coming from out of town, the Connecticut banquet hall is offering a shuttle service to three local hotels: the Courtyard Marriott Wallingford, Fairfield Inn Wallingford, and Holiday Inn North Haven.
Located in Wallingford, Conn., Seasons at the Tradition has become one of the most sought-after destinations for celebrations in the state. The facilities include two banquet halls, which can be combined into one for large parties, a dining room, a terrace, and a bar. Inside, the facilities can be adjusted to an event's needs, and features specifically for weddings have been added. In addition to the versatility, the banquet halls provide a view of the picturesque grounds of The Tradition Golf Club, which was renovated over the past few years. With customer service always a high priority, The Tradition Golf Club is now more playable for the casual golfer yet retains its features for professionals.
Aside from the upcoming the New Year's Eve party, many events can be held at Seasons at the Tradition's facilities and grounds, including weddings, corporate events, banquets, bar and bat mitzvahs, holiday parties, anniversaries, graduation parties, christenings, and seminars. Seasons' New Year's Eve celebration is $95 per person and $180 per couple, and the Connecticut banquet facility is currently taking reservations. Press release services and search engine optimization provided by Keyword Performance.
###