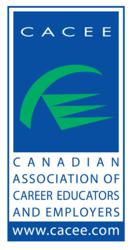 "A flat labour market for grads is evidence that the economy is still sluggish but growth in starting salaries shows that the employers whor are hiring are competing for the best and the brightest", said CACEE Executive Director, Paul D. Smith.
Toronto, ON (PRWEB) December 13, 2011
Class of 2012 post-secondary graduates will face the same flat job market as their peers from 2011, with hiring rates virtually frozen, according to the 2011 Campus Recruitment and Benchmark Survey Report that has been released to the public today.
The report, published by the Canadian Association of Career Educators and Employers (CACEE), also found that graduates of colleges and universities will have trouble connecting with employers who are hiring because campus recruiting activities have been reduced for the third straight year. But there is good news too: those who find employment can expect to make more money, since starting salaries will climb by 10 percent over the previous year. Employers are looking for grads who offer sound verbal communications and analytical skills, plus a solid work ethic.
The report, produced annually, contains data drawn from survey responses provided by 324 employers across Canada.
"Campus recruiting is a barometer for the rest of the economy," said CACEE Executive Director Paul D. Smith. "A flat labour market for grads is evidence that the economy is still sluggish in a number of sectors, but growth in starting salaries shows that the employers who are hiring are competing for the best and brightest."
While many industries are maintaining or reducing their current hiring activities, others are experiencing a different issue – they can't hire enough talent. Skills shortages are emerging in two sectors, mining and telecommunications, which are critical to the overall health of our national economy.
"We have graduates who can't find work and employers who can't find workers, and that must be frustrating for both," said Smith. "We have a case of mismatched supply and demand, and it looks likely to continue."
The survey also asked employers to rank the skills they found most important in new graduates, and their answers should comfort those students who fear they have chosen a program that will not land them a job. In the midst of a complex labour market, full of challenging new roles that demand specialized skills, the talents employers value most highly are verbal communications, analytical thinking and work ethic.
"These are transferable skills that can be acquired in any program of study," said CACEE President Kerri Zanatta-Buehler. "The findings of this report should boost the confidence of all students. Believe in yourself, work hard, and focus on improving your ability to communicate. Do these things, and you will be more employable."
Other highlights of the 2011 report include:
New graduate recruitment for 2010-11, as reported in this survey, was dominated by Ontario.
Nearly 50 percent of reported positions for new graduate hires in 2010-11 came from Ontario. The Prairies followed, with approximately 25 percent of all 2010-11 offers.
The average cost per hire for the 2010-11 recruiting season was $3,923. This is a drop from last year, and represents the second consecutive year that respondents have reported lower cost-per-hire figures for new graduate recruiting.
There is a clear trend toward more use of social networking and online job-posting sites as a substitute for on-campus recruiting. The effectiveness rating for the range of branding activities supports the trend toward the use of social networks. The major changes were a much improved effectiveness rating for social networking in the recruiting process and a clear decline in perceived effectiveness for on-campus career fairs.
About CACEEB
The Canadian Association of Career Educators and Employers (CACEE) http://www.cacee.com i
s a national non-profit partnership of employer recruiters and career services professionals. Its mission is to provide authoritative information, advice, professional development opportunities and other services to employers, career services professionals, and students.
About the Survey
The CACEE Campus Recruitment and Benchmark Survey Report has been produced annually since 2007. It provides benchmark data that is useful to employers who are preparing their hiring plans for the coming year and to career educators who are helping students to choose their area of study. "This report offers information that is valuable to all employers and career educators in the country," said Smith. "If you are planning to hire new grads, or if you are preparing them for the world of work, you need to read this report."
###