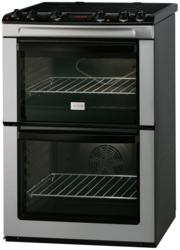 All the extra elbow room inside makes it much easier to cook for lots of people
(PRWEB UK) 13 December 2011
With a variety of easy to use functions, this Zanussi cooker helps make even the simplest meal a masterpiece. Specifically designed to make life easy, the cooker includes two extra large ovens, ceramic cooking zones, full width grilling options and simple, easily accessible controls. State of the art Thermaflow technology stops the transference of smells or flavour between shelves; this means you can cook pizza and chocolate cake at the same time without the sponge ending up tasting like pepperoni.
Available from Appliances Online, this A-rated Zanussi Cooker has stay clean liners which help reduce the build up of dirt and grease, as well as fully removable glass panes in both doors which make it not only easy to use but also extremely easy to clean.
Zanussi Easy To Use ZCV662MXC Electric Cooker
Price - £450
Warranty – 1 year
Dimensions (cm) – H90 x W60 x D60
Energy Rating – A
Stockist – http://www.appliancesonline.co.uk
Features:
ThermaFlow technology – Uses a fan at the back of the oven which spreads hot air evenly around the cavity meaning shorter cooking times and lower temperatures
Stay clean liners – Found at the back, sides and top of the oven. They are coated with a lining which will absorb any grease at 220 and evaporating any excess residue.
Extra capacity – Zanussi cookers provide extra capacity within the main oven which is perfect for a large family.
Expert opinion:
Nick Hancill, Appliance Specialist at Appliances Online said; "I love how easy to use these Zanussi cookers are. All the extra elbow room inside makes it much easier to cook for lots of people. Plus, the ThermaFlow cooking can even save you money in the long run. All this from one cooker? Fantastic."
###