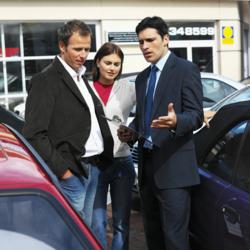 Organizing the offers into an inclusive incentive guide makes it easier for new car shoppers to find the last new car deals of year
Torrance, CA (PRWEB) December 13, 2011
Automakers are wrapping up the holiday season with the best and final new car deals of the year. Black Friday and Cyber Monday haven't got anything on the deals currently being offered on new car purchases from now until the end of 2011. According to autoMedia.com, as the year comes to a close, dealerships across the country are anxious to clear out excess 2011 inventory before ringing in the New Year. Consumers have a great opportunity to take advantage of final new car deals with autoMedia.com's comprehensive guide to 2011 Year End New Car Sales, Rebates and Incentives.
Savvy shoppers who pay close attention to end-of-year incentives will find the best offers available to help determine the right vehicle—at the right price. autoMedia.com claims that incorporating special lease deals, hefty discounts through low- or no- interest loans, and cash- back rebates into the buying process, consumers can possibly save thousands of dollars on a new-car purchase and financing.
"Organizing the offers into an inclusive incentive guide makes it easier for new car shoppers to find the last new car deals of year," said autoMedia.com President, Marshall Flemion. "We've got complete year-end new car deals on everything from Chevrolet, Honda, and Hyundai to Lexus, Mazda and Toyota."
The comprehensive guide to 2011 end-of-year sales incentives lists a broad assortment of offers, from low APR rates to cash-back offers and rebates, as well as special leasing deals from practically every manufacturer, to help shoppers find the best deals available through year end. Each offer also shares informative links to models at a research center to help buyers make a more informed decision about each vehicle's standard features, options, engine choices and safety equipment, as well as fuel economy and pricing to help narrow down the many new vehicle offerings into the one perfect vehicle choice. autoMedia's new vehicle guide pricing includes Kelley Blue Book used car values and new car invoice and MSRP, and allows new car shoppers to obtain trade in values and side-by-side comparisons to help consumers fully research vehicles online.
About autoMedia.com: The auto website was launched in September 2000 by a team of automotive editorial, design, and publishing professionals, with the goal to be the premier provider of quality automotive content on and for the Web. Today it features over 92,500 pages of original articles, including over 2,500 features researched and written by leading automotive experts, covering new and used car buying, new vehicle previews, road test reviews, car care maintenance, professional driving advice, and technology. Automotive enthusiasts and new car shoppers can read about the latest industry news, pricing, rebates and incentives, view photo galleries and research details on all makes and models. For more information visit autoMedia.com.
###