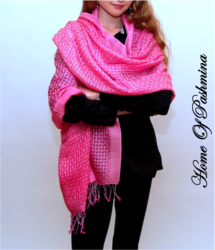 Pamper Yourself In Style
Greater New York Area, NY (PRWEB) December 14, 2011
Home Of Pashmina today announces the launch of 6 new light Designer Pashminas that are sure to capture the imagination of Pashmina lovers worldwide. These designer Pashminas are created using silk and cashmere yarns with various combinations of new designs and ever popular paisley designs.
"We decided to experiment with various designs that are popular in many other fabric types and came up with these ideas which we are sure will be liked by our customers. We are already getting good reviews in the marketing events that we have conducted so far to sample our new designs." - Says Anu C - The President of Home Of Pashmina and Owner of HOP Cashmere Brand.
Pashmina by nature itself is a designer product. Made with Cashmere and Silk or Wool Blends, it has been designed in various ways by many generations of craftsmen and design houses. First made by artisans in Kashmir, India, the Pashminas became popular with royalty and celebrities owing to its luxury appeal. Cashmere being a rare wool was adorned with silk embroidery and fine beads as well as sequins to create designer shawls which enthralled the royal visitors that came to this part of the world.
However with time these designs of Pashminas are getting old and add weight to the scarf which makes it difficult for people to wear it as a scarf as well as a wrap. Given this design limitation the designers at Home Of Pashmina came out with these unique light design patterns that bring back the old world charm of silk embroidered Pashminas yet keeping the scarf very light and fashionable.
The six new designs are - Paisley Jacquard Cashmere, Open Basket Weave, Diamond Reversible, Seven Broad Stripes, Geometric Prints and Fusion Animal Prints. These designs are now available for selection on Home Of Pashmina website and are also being seeded into the market through various boutiques and retail chains.
For retail inquiry or sample orders, please contact Home Of Pashmina offices via e-mail or phone.
About Home Of Pashmina and HOP Cashmere Brand:
Home Of Pashmina, the owner of HOP Cashmere brand is a New York area based Cashmere Pashmina Design/Import House. Anu C – President of Home Of Pashmina has many years of experience as merchandiser in a apparel manufacture and export company and is a Pashmina Enthusiast. Anu has also appeared in New York Area magazines as a upcoming women entrepreneur and Pashmina lover.
For more information about Home Of Pashmina or to order a press kit, please contact:
Anu Chandwani
Telephone: 800-757-2297
Email: ac(at)homeofpashmina(dot)com
Online: homeofpashmina.com
###