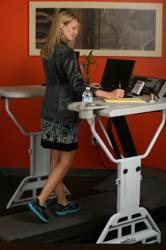 The human and economic costs of Inactivity, a state of being in today's work environment, are greatly underestimated in our society.
(PRWEB) December 12, 2011
On the heels of studies showing that heart attack sufferers benefit more from relatively immediate exercise regimens than from periods of rest is another study from Emory University showing that exercise, such as walking, not only reduces the risk of initial heart attacks but also mitigates further heart damage in the event that one occurs. Unfortunately, the average American employee walks less than ½ the amount of steps necessary to maintain heart health. A workout at work with a TrekDesk Treadmill Desk offers a unique solution to keep them healthier, moving throughout the day.
Researchers at Emory University recently published their findings in the journal Circulation Research identifying exercise as a key component in the heart's ability to produce and store nitric oxide, critical to protecting the heart from injury.
Senior researcher, Dr. David Lefer director of the Cardiothoracic Research Laboratory at Emory University Hospital Midtown commented on the importance of the findings, "Our study provides new evidence that nitric oxide generated during physical exercise is actually stored in the bloodstream and heart in the form of nitrite and nitrosothiols. These more stable nitric oxide intermediates appear to be critical for the cardio-protection against a subsequent heart attack."
Nitric oxide, produced within the body, assists in the relaxation of blood vessels increasing blood flow and engaging survival mechanisms within the heart in the event of failures such as lack of blood flow or oxygen to the heart. Nitric Oxide however is a short- lived gas, so consistent regular exercise is critical to keeping its levels available to the body in the event of a cardiac crisis.
The researchers found that exercise increased levels of an enzyme which produces nitric oxide (endothelial nitric oxide synthase, or eNos). Levels of eNos in heart tissue and nitrite and nitrosothiols (forms of nitric oxide stored in the blood) while remaining high for a one week period lost their protective effects within four weeks of inactivity.
"The human and economic costs of Inactivity, a state of being in today's work environment, are greatly underestimated in our society," stated Steve Bordley, CEO of TrekDesk Treadmill Desks. "Some simple modifications to our lifestyles and work environments which encourage movement would eliminate many of these escalating health risks."
Designed to fit any existing treadmill, TrekDesk treadmill desk is an affordable, full sized, height adjustable workstation that allows individuals the opportunity to gain the necessary amount of exercise daily to maintain health, prevent disease, strengthen muscles, boost mood and productivity, without requiring additional time during the day or extra motivation. Workout at work with TrekDesk. No sweat!
TrekDesk is currently available for sale online at TrekDesk.com for $479.00 including free shipping.
Join the TrekDesk "Movement Revolution" to learn more on TrekDesk's Facebook page.
###