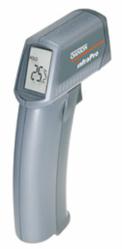 Vernon Hills, IL (PRWEB) December 12, 2011
Gift-giving can challenge even the most creative among us. When the recipient is scientifically minded, a gift of argyle socks or a fuzzy robe may not incite squeals of joy when the wrapping paper is discarded. What inspires the laboratory technician, meteorologist, hydroponicist, or veterinary student? Cole-Parmer offers potential solutions. Here's just a sample of items to consider for holiday gift-giving:
The Economical Minidrum Hygrothermograph measures and records atmospheric humidity and temperature—and their fluctuations—in a compact unit. The LD50 Deluxe Lightning/Storm Detector registers active storms within 40 miles and indicates if the storm is moving toward or away from the user. The Oakton® Waterproof EcoTestr™ pH 2 Pocket pH Tester earns high marks for ease of use, easy-to-read display, and economical price—excellent for gardeners and hydroponicists. The Oakton® Mini-InfraPro Infrared Thermometer, shown, offers a pistol-grip handle for easy measurement of surface temperatures; just point and measure for accurate readings. The easy-to-carry Dissecting Kit supplies the user with forceps, scalpels, tweezers, needles, scissors, and more, all in a velvet-lined, zippered case.
To find these and many more items, go to ColeParmer.com/18938 or call 800-323-4340 for more information.
Cole-Parmer has been a leading global source of laboratory and industrial fluid handling products, instrumentation, equipment, and supplies since 1955. Our product lines, including popular brand names such as Masterflex®, Oakton®, and more, are sold through company-owned customer channel outlets and a strong network of international dealers. We also feature an ISO-17025-accredited metrology lab for instrument calibration and repair. Cole-Parmer responds with excellence to customer needs, and offers application expertise and technical support. For more information, contact Cole-Parmer, 625 East Bunker Court, Vernon Hills, IL 60061. In the US, call 800-323-4340. International customers, call 847-549-7600. Visit us at http://www.coleparmer.com.
###