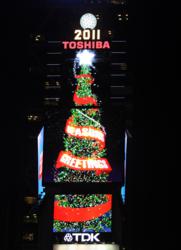 New York, NY (PRWEB) December 13, 2011
Just as the holiday season gets into full swing, a giant, 150-feet digitally-animated, multi-colored Christmas tree magically appeared high atop One Times Square, signaling the beginning of a new holiday tradition for the "Crossroads of the World."
The digital tree is featured on the Toshiba Vision screens and the TDK screen.
Rising 400 feet above street level, the 150-feet digital tree will utilize state of the art graphic designs, designed for maximum visual exposure in Times Square. First seen in silhouette, a gradual pulsating glow behind the tree begins, letting viewers know something special is in the offing. The tree begins to sparkle, while another Times Square tradition, a special countdown, slowly appears. As the countdown gets to "1," thousands of white lights shimmer, with the now rotating tree getting brighter and brighter in sparkling lights as a sash with "Season's Greetings" envelops it.
The tree will decorate the winter sky and set the mood for the holiday season in Times Square from December 5, 2011 to January 15, 2012, appearing on the screens every 15 minutes, 24 hours a day.
Joining in the launch of the tree via a Toshiba THRiVE tablet was Satoshi "Sergio" Kawada, Vice President, Corporate Business Planning, Corporate Communications & Public Affairs, Toshiba America, Inc. (TAI); Frank Sweeney, President and CEO, TDK U.S.A. Corporation; Tim Tompkins, President, Times Square Alliance and Jeff Straus, President of Countdown Entertainment.
About Toshiba
Toshiba is a world leader and innovator in pioneering high technology, a diversified manufacturer and marketer of advanced electronic and electrical products spanning digital consumer products; electronic devices and components; power systems, including nuclear energy; industrial and social infrastructure systems; and home appliances. Toshiba was founded in 1875, and today operates a global network of more than 490 companies, with 203,000 employees worldwide and annual sales surpassing 6.3 trillion yen (US$77 billion). Visit Toshiba's web site at http://www.toshiba.com.
About TDK
TDK is a leading global electronics company based in Tokyo, Japan. It was established in 1935 to commercialize "ferrite", a key material in electronics and magnetic products. TDK today focuses on demanding markets in the areas of information and communication technology and consumer, automotive and industrial electronics. In fiscal 2011, TDK posted total sales of JPY 876 billion (USD 10.6 billion), with a global network of more than 120 subsidiaries.The company employs about 88,000 people worldwide. Visit TDK's web site at http://www.global.tdk.com.
About the Times Square Alliance
The Times Square Alliance, founded in 1992, works to improve and promote Times Square - cultivating the creativity, energy and edge that have made the area an icon of entertainment, culture and urban life for over a century. In addition to providing core neighborhood services with its Public Safety Officers and Sanitation Associates, the Alliance promotes local businesses; encourages economic development and public improvements; co-coordinates numerous major events in Times Square (including the annual New Year's Eve and Broadway on Broadway celebrations); manages the Times Square Visitor Center and Museum; and advocates on behalf of its constituents with respect to a host of public policy, planning and quality-of-life issues. http://www.TimesSquareNYC.org
###