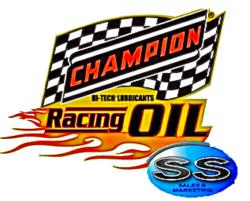 Champion Oil is More Competitive with SS Sales & Marketing Group in the Western United States.
Los Angeles, CA (PRWEB) December 15, 2011
"It's not enough to just have the best lubricant products. They have to be positioned properly, marketed aggressively, promoted to bring brand awareness, and create a higher perceived value than that of your competitors", said Mike Reddick, VP of Sales at Champion Brands. "SS Sales & Marketing are more than old school manufacturers representatives that simply introduce your products to the market. They are professionals who are impressively networked, experienced in brand building, product positioning, market development, and create exciting direction. We at Champion are very pleased to have them on our team."
SS Sales & Marketing's Corporate Office is located at 25060 Hancock Ave. Ste 103-150, Murrieta, CA 92562. Contact them by phone at 951-677-3116 at http://www.sssales.net/contact.asp
Champion Oil develops synthetic motor oils for the racing, diesel, classic, vintage, hot rod, muscle car, and the engine builder markets. They manufacture numerous multi-viscosity motor oils with high zinc and phosphorous formulas designed to deliver the correct balance of chemistry to protect vintage and high performance engines, especially those using flat tappet roller cams operating at high RPM's and requiring high-pressure valve springs.
These "purpose-built" lubricant products contain Champion's proprietary TVS® (Thermal Viscosity Stabilizer) which extends oil film capacity for better protection at high temperatures. The Champion oils also contain special lubricity modifiers to reduce friction, and unlock the full potential of any engine by providing increased compression, horsepower and torque.
About the company: Champion Brands, LLC, is a globally recognized industry leader in specialty lubricants for over 55 years. Champion also produces and blends over 300 products including fuel, oil, engine additives, and lubricants for the racing, automotive, heavy truck, agricultural, industrial, and specialty markets. For more information contact your nearest Champion Distributor, or call Champion at 800-821-5693. Champion Brands, LLC; 1001 Golden Drive, Clinton, MO, 64735 or go to http://www.championsusechampion.com
###