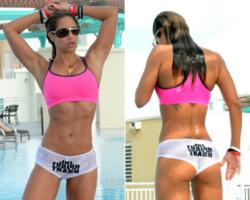 The JNL Fusion method has been coined by major media & writers of mega publishing houses as a fierce fitness revolution, that weaves in super spiking cardio bursts with strength moves; a training method that is glute focused.
Miami, FL (PRWEB) December 13, 2011
Jennifer Nicole Lee's latest fitness product to date is the Glutes That Salute downloadable video tutorial, where JNL gives you the 101 on the best booty program. Due to the own frustration this best selling author dealt with after losing 80 lbs, she was faced with a flat saggy backside. She used her frustration to fuel her fitness fire, and went to research and discover the best butt secrets of the worlds sexiest fittest women. She then created the http://www.GlutesThatSalute.com booty lifting program which will indeed, get glutes to salute.
JNL is a leading fitness expert, and is a globally recognized health icon, and she knows the importance of living a balanced lifestyle. She states, "I am the creator of the JNL Fusion workout method, which is a total complete training program that is very glute focused. I target the derriere not only for the aesthetic reasons, but also or the scientific reasons that the glutes are the largest muscle group in the body. IF you train your glutes efficiently, your entire body will benefit from it, as it acts as the 'engine' of your body. The stronger your glutes, the stronger and more effective your entire body will be."
Jennifer Nicole Lee is known for her mission statement, which is is to "increase the quality of your lifestyle".
###