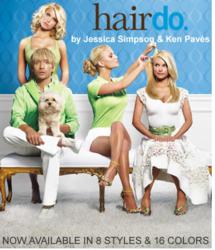 (PRWEB) December 13, 2011
Bestsellers from the J essica Simpson and Ken Paves' HairDo collection have arrived at WigAvenue.com. Listening to the recommendations of their customers, WigAvenue.com has welcomed the arrival of popular items from the line. HairDo is a salon line of clip-in hair extensions that were created when Jessica Simpson partnered with her celebrity hair stylist Ken Paves. These world-class looks are the very same styles that Jessica Simpson is seen wearing everyday.
Women can easily change their length and add volume at an affordable price with the HairDo Clip-In Hair Extensions. Reportedly a best-seller at Wig Avenue, the Jessica Simpson 23-inch Wavy Clip-In Hair Extensions consist of one multi-level, contoured piece that creates an easy hairstyle without the hassle of working with several individual wefts. You can now easily afford a new wavy, long hairstyle to bring volume and texture to your hair thanks to Ken Paves and Jessica Simpson clip-in hair extensions.
Experiencing the traumatic experience of a bad haircut is a thing of the past with thanks to the Jessica Simpson Clip-In Bangs. Girls can change up their look instantly and easily with the bangs hairpiece. The Clip-In Bangs are a synthetic and styleable blunt-cut bang that comes in 11 multi-blended salon-inspired colors by Ken Paves. It is made of Tru2Life heat-friendly fiber which not only looks and feels like real hair, but allows women to cut and curl them using thermal tools on medium settings. The synthetic bang looks real, feels real and stays put.
Ponytails are always in style and the Jessica Simpson Wrap-Around Ponytail is no exception. It is an essential hairpiece for any woman's extensions collection. The Jessica Simpson Pony is designed to be attached to any length of hair to create a full voluminous ponytail without the long-term hassle of growing out hair. The consumer can simply create an eye-catching style with their own hair instantly. The HairDo Ponytail is 18-inches to add length and volume for a trend-setting look without any styling required.
One of the newest Hairdo products in this collection at WigAvenue.com is the Mid-Length Bump up the Volume Hair Extensions by Jessica Simpson. It is a one-piece clip-in volumizing extension that is made from Tru2Life heat-friendly synthetic hair. Measuring 15-inches from top to bottom, the Jessica Simpson Bump up the Volume Hair Extensions can be cut and styled to blend with any hairstyle. WigAvenue.com customers report it to be better than Bumpits. It instantly creates lift and volume at the crown and allows women to take their hair to new heights without teasing or hairspray. It features an easy-to-clip-in base with a moldable wire that allows the consumer to decide the height of the hairstyle. Also available in 11 salon-inspired colors, the Bump up the Volume Hair Extensions was created by celebrity stylist Ken Paves and tested on Jessica Simpson herself for another best-selling hairpiece.
The Jessica Simpson Clip-In Extensions from HairDo offer virtually undetectable hair extensions for changing length, color or volume in a matter of minutes. WigAvenue.com allows the consumer to choose from a selection of clip-in synthetic straight or wavy hair made from the patented Vibralite modacrylic fiber and a selection of 11 salon-inspired colors. WigAvenue.com continues to promise an offering of the latest trends with hairpieces made of the most cutting-edge technology. Complete with friendly customer service and a wide variety of competitively priced products, the consumer can not go wrong at WigAvenue.com.
About the company:
WigAvenue.com is a rapidly growing retailer of wigs, extensions and hairpieces. This e-commerce retailer believes in offering a large selection of high quality wigs and hairpieces in the latest trend-setting styles with a full variety of colors and at competitive prices. Their friendly customer service team is dedicated to providing their customers with diligent service. This dynamic team works together so their customers receive their order quickly. The shipping facilities work efficiently in shipping orders out as quickly as possible.
###