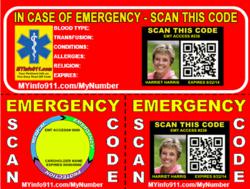 Palm Coast, FL (PRWEB) December 23, 2011
Early in the development of its state of the art emergency ID products, MyInfo911 realized that more than just about any other group, victims of Alzheimer's disease and other forms of dimentia could benefit greatly from their products. According to the Alzheimer's Association, some 5.3 million Americans suffer from Alzheimer's disease, the most common form of dementia. These numbers have been on the rise, and according to the Alzheimer's Association the number is projected to grow by roughly 50% by 2030, due primarily to the aging of the baby boomers. MYInfo911 recognizes this serious and growing concern. It is presently the 6th leading cause of death in the US and the only one of the ten that has increased percentage wise in the past decade, and currently has no way to prevent, cure or even significantly slow its progression.
MyInfo911 knows that Alzheimer's patients present special challenges unique to them. One of the most common symptoms of the disease is the tendency to wander. This can happen in spite of the best efforts of their caregivers. When authorities arrive on the scene these folks are often confused and unable to even identify themselves. Still others have inadequate or even no caregivers to lend a hand and some even continue to drive, endangering themselves and others.
MyInfo911 provides emergency products that will instantly alert officials that a person has Alzheimer's and when scanned by any smart phone will alert next of kin. In the case of medical emergency, the MyInfo911 emergency ID card and sticker also provides detailed medical information on the individual such as allergies, medications, and all pertinent medical conditions in order to assist first responders in providing care that is both timely and correct.
About MyInfo911
Started in October 2010, MyInfo911 provides emergency identification cards that use QR codes to provide pertinent medical history information to first responders and other medical providers. The Palm Coast, Florida based company's cards have the person's picture, name and QR code on the front and the person's name, year of birth, emergency contact, blood type, allergies and specific medical conditions on the back. For more information visit http://www.myinfo911.com
###