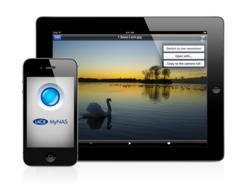 Paris, France (PRWEB) December 13, 2011
LaCie announced today the launch of its MyNAS iPhone®/iPad® app and remote access capability, which gives users instant access to files on their home network from anywhere. Compatible with the LaCie Network Space 2 and Network Space MAX network-attached storage (NAS) devices, MyNAS is simple and easy to use. A 30-second setup is all it takes to access music, photos and video while away from home.
New LaCie MyNAS IOS App
The free LaCie MyNAS app for iPhone and iPad gives convenient, instant access to files stored on a home network. Users are no longer limited to what is stored on their device; they now have access to terabytes of files and storage at home, too. Already filled up an iPhone with vacation photos and still have three days left on the trip? With the MyNAS app, simply move the files from the device onto the NAS to free up space.
Access From Any Browser
From within a browser, MyNAS allows the user to download, manage, upload, and even stream certain types of files from their home network. This feature offers instant access from any computer, smartphone, or tablet. It's easy to share photos from the latest family occasion on a friend's home computer or at work. No need to create accounts with 3rd party websites, shuffle USB keys back and forth, or burn DVDs in order to share files.
Easy Setup
MyNAS revolutionizes NAS remote access, delivering the simplest setup in the industry. Just create a unique name for your network storage in the NAS dashboard, then access the device on the road with a simple, easy-to-remember web address: mynas.lacie.com/name. Setup takes less than 30 seconds, and the user does not even have to leave the Dashboard.
Availability
MyNAS is available for Network Space 2 and Network Space MAX products as part of the OS 2.1 firmware upgrade. For additional information and to update, visit http://www.lacie.com/mynas. To download the MyNAS app, visit http://www.apple.com. These features will be available in the coming weeks for d2, 2big, and 5big NAS products as well.
About LaCie
With operations in the Americas, Europe and Asia, LaCie is a leading manufacturer of storage devices for PC, Apple, and Linux. LaCie has differentiated itself through sleek design and remarkable technical performance. Find out more about our products at http://www.lacie.com.
Find LaCie on:
Facebook
Twitter
# # #