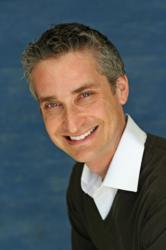 Being in the 'people helping business' is a big responsibility but even more so for insurance agents who play a vital role in sustaining a community when hard times hit
Los Angeles, California (PRWEB) December 13, 2011
Mutual Insurance Association of Iowa (http://www.MIAI.ORG), recently hosted business speaker Scott Greenberg as a keynote for their 131st Annual MIAI Convention held November 13-15. The attendees included some of the 500 owners of Mutual Insurance Agencies throughout Iowa as well as representatives from them National Association of Mutual Insurance Companies. Greenberg spoke on November 14, 2011 at the Holiday Inn Airport Convention Center in Des Moines on the topic, "Survival of the Finest: Thriving During Times of Change and Adversity"
This annual conference hosted by Mutual Insurance Association of Iowa was designed to motivate their independent insurance agents to operate at peak performance during times of change and adversity. This topic was relevant to Iowa Insurance agencies such as MIAI who have been challenged by bad weather throughout recent years, particularly 2009 when according to the MIAI President Richard Main, the association's state and county members re-invested over $105M back into their local communities.
"I have always enjoyed speaking to insurance agencies as I feel like I can relate to them on certain levels," says business speaker Scott Greenberg. "Being in the 'people helping business' is a big responsibility but even more so for insurance agents who play a vital role in sustaining a community when hard times hit."
In the presentation, Greenberg reminded the insurance agents that they play an important role in helping families get back on their feet when tragedy strikes. He told them that is something that they can be proud of. Greenberg said to use this as an opportunity to demonstrate their value to the community.
As a business speaker who travels around the world for speaking engagements, Scott Greenberg has worked previously with insurance companies such as Cost-U-Less Auto Insurance, Axis Capital, and most recently the Saudi IAIC Cooperative Insurance Company in Jeddah, Saudi Arabia. For more information about Scott Greenberg please visit the website at http://www.scottgreenberg.com or call 1-800-450-0432 (or outside the U.S. 1-818-785-5202).
About Scott Greenberg
Greenberg is a professional business speaker specializing in resilience, peak performance, and emotional intelligence. His personal battle with cancer and inspiration from his "Schindler's List" holocaust surviving Grandmother are the basis for some of his motivational stories. Since 1993, Scott has spoken to a variety of organizations looking to improve their leadership, customer service and work environment. Clients include Nike, Cargill International, the United Nations and the U.S. Department of the Interior. Scott has written three books on leadership and is a contributing author to "Chicken Soup for the College Soul." For more information about Scott Greenberg, visit http://www.scottgreenberg.com or call 1-800-450-0432 (or outside the U.S. 1-818-785-5202).
###