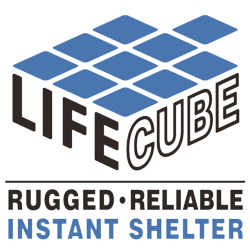 Santa Barbara, CA (PRWEB) December 13, 2011
Life Cube Inc., a leading developer and manufacturer of inflatable survival shelters will appear on A+E Network's History's 'Invention USA' on December 16, 2011 at 10:30 PM PST (Episode Four, "Helter Shelter"). Invented by Santa Barbara, Calif. entrepreneur Michael Conner, the military-grade Life Cube is a ground-breaking portable shelter that can be airdropped to remote locations and inflated within five minutes to provide instant protection from the elements while delivering water, food, heat and other necessities for survival.
Hosted by noted researchers and scientists Reichart Von Wolfsheild and Garrett Lisi, 'Invention USA' seeks out "breakthrough inventions" and rigorously screens thousands of inventors, selecting only two per episode and offering investment capital to inventions that make the grade. Life Cube Inc., the shelter's developer and manufacturer bills it as "the world's only shelter system encased within a cube-shaped shipping container which converts into a hard surface floor, making it ideal for rapid deployment in remote locations and rugged terrain".
Mr. Conner says his firm sent in a submission to History after hearing about the program earlier this year. "I felt we stood an excellent chance of catching their attention because there is nothing like Life Cube on the market today. Although its life saving potential has been enthusiastically evaluated by the U.S. military, Natick, FEMA, several NGOs (Non-Government Organizations) and the United Nations in Geneva, we've never had national network television exposure which I think appealed to the show's producers."
During production of the episode featuring Life Cube, Mr. Conner says 'Invention USA' hosts scientists Wolfsheild and Lisi "really put the Cube through extraordinarily rigorous testing".
"They performed several endurance and practicality tests, all of which I think strongly make the case for the necessity of Life Cube being adopted for a wide spectrum of applications when human lives are at stake," Mr. Conner comments.
Invented and blueprinted entirely on his kitchen table, Mr. Conner says he came up with the idea for his "shelter in a cube" after witnessing the devastation wrought by Hurricane Katrina in New Orleans and the massive Kashmir earthquake in Pakistan, both of which occurred in 2005 and left a wake of death with millions of victims without shelter for weeks or months. What puts Life Cube in a class of its own as a temporary shelter he explains is its rapid deployment capability. Each Life Cube is equipped with a battery-powered blower which provides immediate inflation and assembly by just two people.
"Its ready for use within five minutes as a 144 square foot refuge with an 11 foot high ceiling providing shelter and food and water for five days for up to five people," he adds.
Among Life Cube's standard features are a self-sufficient, solar powered power system, communications equipment, water filtration devices, propane or kerosene cook top, first aid kits, ready-to-eat meals (MREs) and a wide variety of essential survival supplies. Completely U.S.-made, each Life Cube is manufactured and assembled entirely in Florida and California.
About Life Cube, Inc:
Established in 2006 and based in Santa Barbara, CA, Life Cube, Inc. is a specialist in rapid deployment shelter technologies. The genesis of the Life Cube system began when entrepreneur Michael Conner witnessed the devastation in 2005 wrought by Hurricane Katrina and a massive earthquake in Pakistan. Watching humanitarian efforts, it became clear to him that a quickly deployable, portable shelter could be enormously helpful in providing life-saving shelter and supporting on-the-ground operations by aid workers. Mr. Conner immediately committed himself to invent an entirely new class of transportable shelter – one that would combine the ruggedness and utility of a trailer with the speed and expandability of breakthrough inflatable technology. The result is the Life Cube. Today Life Cube, Inc. is a leading designer, manufacturer and distributor of innovative air-beam shelters for a variety of markets and uses.
###