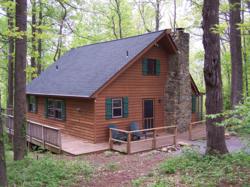 Real family togetherness happens when families escape from all the daily distractions of life
Waynesboro, VA (PRWEB) December 13, 2011
Holidays and family...they go hand-in-hand, like peanut butter and jelly, or wine and cheese. People all over this county and beyond travel hundreds of miles to be with family for the holidays.
This Christmas, Cabin Creekwood is offering fully furnished vacation cabins for true family togetherness. Imagine a holiday away from all the distractions of home. The phone is not ringing, the TV is off, and the kids are not glued to their video games and cell phones. There is peace and quiet in the air, and the entertainment is spending time together. There's time for a puzzle and a board game, and real, face-to-face communication happens almost spontaneously when there is little noise to compete.
Cabin Creekwood has two and three-bedroom cabins available during this Christmas holiday, to accommodate a family of up to eight very comfortably. Fido is welcome too. After all, he is part of the family.
Building family togetherness doesn't mean always staying inside and huddling around the fireplace. There are a host of wintertime activities close by to take in. Wintergreen Ski Resort is right around the corner with skiing, snowboarding, snow tubing, and a zip line. Hiking in the winter can be lots of fun too. The views are fantastic, and with all the leaves off the trees, wildlife are easier to spot. Crabtree Falls and White Rock Falls are simply amazing this time of year, with ice forming in the fall.
Whatever activity a family chooses, the important thing is spending time together. And time together means so much more than just being in the same building.
To find out how Cabin Creekwood can help you build family togetherness during this holiday season, visit their website at http://www.cabincreekwood.com.
###