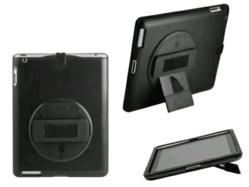 Ed Zabrek, chief medical editor for iPhone Life Magazine, commented on his SlateSHIELD case recently, "It is an awesome design. One handed use has never been easier."
Fountain Valley, Calif. (PRWEB) December 14, 2011
The SlateSHIELD™ 360 rotating case, handle and stand for iPad® 2 is now available for the holiday season from retailers including Amazon.com, eXpansys and the Cellularstore from ADDO Accessories, a division of mobile device and product specialist PPC Techs, Inc. SlateSHIELD with its patent-pending collapsible handle design and slide-out integrated stand provides 360-degree hands-free viewing and typing from multiple angles.
As many business iPad users have found, holding their technology in one hand and using it with the other can be challenging and prone to dropping or slipping. To prevent this, the SlateSHIELD wearable iPad case has a comfortable self-adjusting hand strap to easily control the device in the palm of one hand, leaving the other hand free to multi-task. There is no need to remove the case from your hand to rotate the case 360 degrees and the swivel design makes it easy to switch from landscape to portrait mode for effective use.
Additionally, the SlateSHIELD case incorporates a unique slide out integrated stand, allowing the iPad to be used for optimal viewing in landscape, portrait or typing mode, ideal for applications such as FaceTime, viewing movies, giving presentations or for use with a Bluetooth keyboard on a desktop.
SlateSHIELD's collapsible handle design, built-in stand and durable compact design enhances the one-handed usability of the iPad 2 while providing secure protection and comfort in use. Designed with the mobile and business user in mind, the SlateSHIELD 360 case is simple to use, easy to handle, yet tough enough to use in many business applications.
Applications in healthcare, education, field services, automotive, retail, and food & hospitality are ideal for SlateSHIELD where there is a need to hold the iPad in one hand to maximize productivity and minimize limitations.
Ed Zabrek, chief medical editor for iPhone Life Magazine, commented on his SlateSHIELD case recently, "It is an awesome design. One handed use has never been easier."
Leonard Wesson, CEO of Addo and PPC Techs, Inc., further commented, "I can say with confidence that the new SlateSHIELD case is an example of how lifestyle can be integrated with functionality while providing a rich user experience. PPC Techs has a legacy of more than ten years of making mobile computing more efficient and agile, which we have now moved under the ADDO Accessories brand. I look forward to the next generation of tablets and providing our customers with the best in class products for a long time to come."
SlateSHIELD is made of tough, durable ABS plastic, comes in a black finish and retails for $54.95.
It is available through online retailers including Amazon.com, eXpansys and the Cellularstore in the USA or directly from http://www.SlateSHIELD.com. ADDO Accessories has established distribution channels in the USA, UK and Ireland and is actively recruiting further channels globally.
To view the SlateSHIELD for iPad 2 in action, visit http://youtu.be/MhYlm4MXts0.
About ADDO Accessories
ADDO Accessories is a division of PPCTechs, Inc. and specializes in the design and manufacture of high-quality mobile device accessories, including functional cases, premium screen protection systems and capacitive stylus. Its WriteSHIELD® Premium Screen Protection System is approved by NASA for Manned Space Flight and for use on the International Space Station. For further information, please visit SlateSHIELD.com or contact Steve Muttram at 217-220-0895 or smuttram(at)ppctechs(dot)com.
# # #