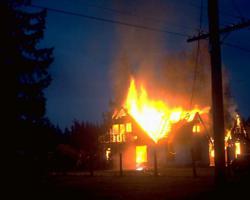 Home fire prevention is critical. So is updating your homeowner's insurance policy. If a tragedy does occur, you want to be fully insured. Kyle Kennon, BMCC Insurance
(PRWEB) December 14, 2011
Online insurance agency, BMCC Insurance is teaming with Travelers Insurance to remind residents to check their smoke detectors and fire extinguishers. It is especially important at this time of year because home fires are most prevalent in December and January when electrical circuits are frequently overloaded by holiday decorations and heating appliances used to battle the cold weather.
Smoke detector batteries should be replaced once a year, whether they beep or not. Test fire extinguishers at the same time.
Extension cords should not be used as an additional source of outlets, nor should they be pinched or covered by rugs.
Space heaters are a major culprit of house fires. Follow the manufacturer's instructions for use. Also, do not place them near furniture, curtains or other objects that could catch fire.
Dryers are also a major fire hazard, so make sure you clean your lint filter after each load and check your vent hose on a regular basis to ensure that the air passageway is free of blockages.
Take this time to inspect your homeowner's policy as well to ensure that your homeowner's insurance policy also passes inspection. Make sure that you have proper levels of coverage and that your deductible is where you can afford it.
BMCC Insurance is a multi-line insurance agency servicing both residential and commercial sectors. Areas of expertise include home, auto, motorcycle, life and commercial lines.
To contact BMCC Insurance, e-mail Kyle Kennon at kyle.k(at)bmccinsurance(dot)com or Kristine Ter-Arutyunyan at Kristine.t(at)bmccinsurance(dot)com or call 855.855.2622.
###