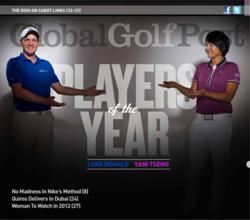 Winter Park, FL (PRWEB) December 13, 2011
Global Golf Post – the first made-for-digital golf publication in the world – announced today its first pair of Players Of The Year in its December 12 issue. Based on the distance they created between their respective competitors, LPGA player Yani Tseng and PGA player Luke Donald were honored in the last issue of the 2011 season.
"This choice was fairly obvious," said Brian Hewitt, The Post Editor-In-Chief, "By any measure these two players had exceptional years on their respective tours."
During the 2011 season, Yani Tseng became the youngest player ever, male or female to win five career majors after clenching the 2011 RICOH Women's British Open. Tseng also won her first four starts worldwide and ended the 2011 LPGA season with 11 victories total.
Luke Donald completed the 2011 season with 14 top -10 finishes on the PGA Tour and secured the Race To Dubai title over the weekend on the European Tour. He also has the 2011 PGA Tour money list title, was awarded the Byron Nelson Award as well as, the Vardon Trophy for the lowest adjusted scoring average on the PGA Tour for the year.
About Global Golf Post
Global Golf Post is the first free digital weekly golf news publication in the world that offers the passionate golf enthusiast an extraordinary online experience that can be accessed across all major devices. Founded in 2010 and headquartered in Winter Park, Fla., The Post is delivered overnight on Sunday to a global and passionate golf audience.
For more information please contact – Heather Osborne (heather(at)globalgolfpost(dot)com) or click here to subscribe to Global Golf Post.
Media Contact
Heather Osborne
Global Golf Post
407-250-5245
heather(at)globalgolfpost(dot)com
###