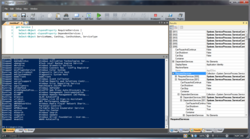 The PowerSE OEM Integration program allows application vendors to save significant development effort while providing a fully functional PowerShell editor and PowerShell console",said Kirk Munro, Product Manager.
St. Louis, MO (PRWEB) December 13, 2011
Devfarm Software, a Windows 8 Launch Partner, today announced the start of a PowerSE OEM Integration Program. PowerSE is the script editor that is embedded in Devfarm's flagship product, PowerWF – Visual PowerShell Orchestration. The PowerSE OEM Integration Program allows third party applications to integrate quickly and easily with the state-of-the-art PowerShell editor the same way that PowerWF does.
"PowerShell is showing up in new applications at an incredible rate, and each application vendor that adds PowerShell integration needs to decide how they will handle editing and testing the PowerShell scripts," said Kirk Munro, Product Manager, Devfarm Software. "Joining the PowerSE OEM integration program will allow these vendors to save significant development effort while providing a fully functional PowerShell editor and optionally an embedded PowerShell console as well."
PowerSE makes PowerShell more accessible to everyone from the reluctant Administrator and casual user to the PowerShell Guru. Automatic PowerShell code generation and advanced debugging features like breakpoints and a watch window, provide instant value and time savings. PowerSE's built in visualization can customize results and drill into complex data structures.
"We always look at existing technology for integration options before deciding to invest in new development. When we looked at PowerShell editors, we couldn't find one that would easily integrate with our products to the level required," said Brian Butler, CEO of Devfarm Software. "From day one, PowerSE was designed to function as both an embedded editor and a standalone application."
PowerSE has all the features expected in high-end script editors like color syntax highlighting, tab complete, and deep Intellisense of PowerShell, WMI and .Net, but what truly makes PowerSE special is the seamless blending of the editor with a PowerShell command console. This means no flipping back and forth between your editor and the command line; PowerSE lets you have both up at the same time or maximize either with the touch of a button.
PowerSE can be downloaded from http://powerwf.com/misc/download-se.aspx
For more information about the PowerSE OEM Integration Program, contact Kirk Munro at Kirk(at)devfarm(dot)com.
About Devfarm Software:
Founded in 2008, St. Louis Missouri based Devfarm Software's mission is to build world-class products to simplify and automate the daily activities of IT administrators. Devfarm Software's flagship product, PowerWF Studio delivers on this dream by leveraging Windows Workflow Foundation and PowerShell to innovate in the Administration, Virtualization, Service Desk and Monitoring spaces.
PowerVI extends this vision to simplify the automation needs of VMware administrators by allowing PowerShell scripts to be easily executed directly from the vSphere Client.
For additional information, please visit the PowerWF website at http://powerwf.com or email Devfarm Software at sales(at)devfarm(dot)com.
For questions about this release, send an email to PR(at)devfarm(dot)com or contact Devfarm Software at:
Devfarm Software, Attn: Public Relations, 2008 Altom Ct, St. Louis, MO 63146, 314.590.5800
PowerWF and Devfarm Software are trademarks of Devfarm Software, USA. PowerShell and Windows are registered trademark of Microsoft Corporation, USA. VMware and vSphere are registered trademarks of VMware. All other trademarks mentioned in this document are the property of their respective owners.
###