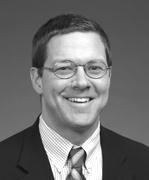 DNA has the promise to dramatically improve the quality of the customer experience in the direct response television and e-commerce sales
(PRWEB) December 12, 2011
DNA Response, Inc., provider of multi-channel e-commerce, on-line marketing and order management solutions, announced today that Scott Staff, Director of Business Development at Perkins Coie, has joined DNA's board of advisors.
Scott provides leadership for the firm's business development strategy, which includes oversight of the firm's client service interview, client service teams and industry teams programs. Prior to that, Scott served in multiple leadership roles at Lewis and Clark College, including Vice President for College Relations and Director of Development for Lewis and Clark Law School. Throughout the years, Scott has extended his professional leadership skills to various organizations and communities, such as serving on the Board of Advisors for Rouxbe Video Technology, Inc. and FatEarth.com, working on the Capital Campaign Committees for St. Cecilia Parish and Cathedral School, and coaching a variety of Youth Sports.
"We are thrilled and excited that Mr. Staff has joined our Advisory Board", said DNA Response's President and CEO Ranjit Mulgaonkar. "As a Business Development Director for one of the largest law firms in the US Scott brings tremendous amount of experience and business reach to DNA, as well as multitude of opportunities to research and secure strategic partnerships across different industries".
"I am honored to join the Advisory Board of DNA Response Inc. Ranjit and his team are developing an extraordinary business that has the promise to dramatically improve the quality of the customer experience in the direct response television and e-commerce sales channels", said Scott Staff.
About DNA Response: DNA Response, Inc. (DNA) provides turnkey e-commerce, online marketing, and order management services to companies in the $300 Billion direct response market. DNA clients sell products direct to consumers using TV, radio, print catalogs, web and mobile as their sales channels. DNA's ECOM2TM platform utilizes state-of-the art cloud computing technologies and services to improve operational efficiency by reducing transaction costs, eliminating credit card declines, and lowering order cancellations and product returns, while simultaneously increasing online revenue for our clients. DNA provides universal order management for processing orders in real time from all the sales channels with full visibility to the business for the clients. DNA generates incremental revenues and helps build a brand for our clients by providing comprehensive e-commerce and online marketing services.
###