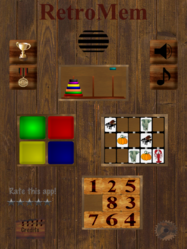 And remember, no matter where you go, there you are.
~Confucius
Round Rock, Texas (PRWEB) December 13, 2011
RetroMem combines four classic memory games in one app, and is appropriate for all ages, and especially for children. "Light Squares" game displays four lights which run in sequence that the player would respond to by tapping them in an identical sequence, for as many as can be remembered. "Towers of Hanoi" is an ancient puzzle of strategy where the player shifts plates between three towers. "Memory" is a classic memory game with the goal of matching images as they are uncovered. The "Eight Puzzle" can be solved by shifting tiles to a final sequence in the least moves possible.
RetroMem has a unique old fashioned-style appearance with professionally recorded Ragtime music by Scott Joplin, Classical music by Frédéric Chopin, Beethoven, and several others. All sound effects are original recordings exclusive to this game.
RetroMem Features:

Large-screen graphics for easy tapping
Unlimited levels of challenge in Light Squares
Four levels of challenge for Towers of Hanoi
Three levels of challenge for classic Memory
Twelve levels of challenge for Eight Puzzle
Pleasant background music to play by
Original sound effects
Game Center with Leaderboard and Achievements
Universal app works with iPad 2, iPad, iPhone 4, iPhone 3GS, and iPod touch(TM).
Languages supported: English, Dutch, French, German, Italian, Japanese, Korean, Portuguese, Russian, Spanish, Swedish
Device Requirements:
iPhone, iPad or iPod touch
11.8 Mb
Pricing and Availability:
RetroMem is available for only $.99 and available December 11th, 2011 worldwide, exclusively through the App Store on iTunes, in the entertainment category.
http://itunes.apple.com/us/app/retromem/id474666526
Company:
Founded in 2010, Porpoiseful Apps, a division of Augmented Prime, LLC, is an independent app development company focused on iOS mobile devices. The company strives to make the most purposeful apps for the consumer. Copyright 2011 Augmented Prime, LLC. All Rights Reserved. Apple, the Apple logo, iPhone, iPad, and iPod touch are registered trademarks of Apple Inc.
# # #