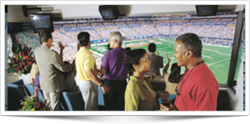 Jim Hamilton has the skills and resources to bring you to the U.S. if needed, and to get you the exotic cars and influential contacts you want.
Houston, TX (PRWEB) December 13, 2011
Physician Business Services is a full-service company that takes care of many of the details of a physician's life, and entertainment is just one of those important services. Between working long hours at a medical practice and taking care of the other details of life, far too many physicians end up with little time for entertainment and no time to plan for it even when there is time. PBS can change all of that.
The entertainment services provided by Jim Hamilton of Physician Business Services include making reservations for dinner and performances, seeking out tickets for elusive entertainment events, finding out about important local events and taking care of the ticket-buying details are all services that physicians can expect from PBS. These services make it easier for physicians to enjoy the personal time that never has to be boring again.
Getting reservations at exclusive clubs and restaurant can be difficult when working all day and PBS can now take care of those problems for physicians who use its services. Entertainment arrangements made by Physician Business Services ensure that physicians can live their lives to the fullest without the stress of trying to make those arrangements during a long workday.
For busy professionals, having fun shouldn't be an option there is little time for. With PBS, it can become a regular part of a physician's life. PBS can even tailor specific types of entertainment to every member of the physician's family. Finding and arranging children's entertainment can be done as easily as arranging a romantic evening for two with Hamilton's help.
With this new service physicians who never seem to have the time for some of the best aspects of entertainment can experience a better quality of life by contacting Jim Hamilton of PBS. With his help, life can quickly get much more entertaining.
###