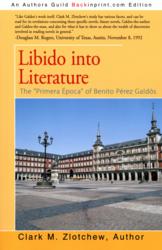 (PRWEB) December 20, 2011
The Authors Guild announces the publication of Libido into Literature: The "Primera Epoca" of Benito Perez Galdos, by Clark M. Zlotchew, through its Backinprint.com program. The Authors Guild' s Backinprint.com service makes out-of-print works available through bookstores and the nation's largest book wholesaler. Online bookstores maintain current reporting of Backinprint titles through Ingram's online catalog. Traditional bookstores consult Ingram's catalog when making special orders. This service is available exclusively for books written by members of The Authors Guild, and involves no charge to the author. Backinprint.com produces quality trade paperbacks, with original cover designs and perfect bindings. Among the first editions made available were works by Thornton Wilder, Lawrence Block, William F. Buckley, Jr., Victor Navasky, Mary McCarthy, and theater critic Stuart Little.
"The Guild is the Authoritative voice of American writers." Scott Turow.
Libido into literature: The "Primera Epoca" of Benito Perez Galdos elucidates the imagery, the symbolism, the evocative language, the biblical and mythical motifs, in short, the rich battery of literary devices by means of which this greatest of 19th-Century Spanish writers converts libido into literature.
"Like Galdos's work itself, Clark Zlotchew's study has various facets and can be read for its revelations concerning these specific novels, future novels, Galdos-the-author and Galdos-the-man, and also for what it has to show us about the wealth of discoveries involved in reading novels in general."
Galdosian critic Douglass M. Rogers, University of Texas, Austin.
Benito Perez Galdos is the greatest writer produced by Spain after Miguel de Cervantes, and is on a par with Dickens, Dostoevsky and Balzac. Galdos' work is huge, including over 100 volumes, and is unequaled in the sheer number of individualized human beings who move through his vast fictional universe.
Libido into Literature: The "Primera Epoca" of Benito Perez Galdos, is a psychological/biographical/literary study of the self-contained series of novels of the formative period of Benito Perez Galdos as a novelist. It traces the thought patterns and illuminates the creative process of the greatest Spanish author of the movement known as Realism.
But the major thrust of this study is not merely to register the themes and thought patterns underlying the novels of Galdos's earliest period, but to delve into the manner in which this great writer creates literature --which is social and political on the surface-- out of instinctual drives and unconscious psychic material.
EXCERPT: The narrator insists on the concept of the mine as a single organism composed of iron and flesh: the stream of blood-red water that flows toward the creek is imagined as "el sudor de aquel gran trabajo de hombres y maquinas, del hierro y de los musculos" … The organism pours forth streams of perspiration the color of which recalls the English expression, "to sweat blood."
In this portrayal of a society which uses human beings as though they were animals, machines, or tools, Galdos supports his ideas with a series of powerful images in which lifeless mineral is personified and in which human beings are dehumanized by their portrayal as insects, as implements, and as figures of clay. P. 71.
EXCERPT: … Galdos's creative genius skillfully converts political convictions, as well as raw psychic material –through the employment of a battery of poetic devices: metaphor, imagery, symbolism, biblical and classical allusion as well as parallel plots—into a masterfully woven tapestry of literary art.
These early novels represent a period of artistic apprenticeship as well as of ideological struggle within Galdos's mind. Many of the preoccupations that would surface throughout the author's more mature work can be seen in their embryonic form in the novels of the Primera Epoca. Galdos's concern with the dynamic interplay of individual, society, and nature is constant throughout his career as a novelist. Libido Into Literature traces his ideas with reference to this relationship from La sombra and La Fontana de Oro, in which they first appear, through Marianela, in which a sharp change of focus occurs, to La familia de Leon Roch, in which these ideas become solidified.
Both the constants that can be seen in all these early novels, and the shifting patterns become interwoven into one fabric in the final novel of the early series, and emerge from it with this complex pattern to continue, to develop further, and to expand in the richer warp and woof of the later series, the Novelas contemporaneas.
Dr. Zlotchew is Distinguished Teaching Professor of Spanish at SUNY Fredonia, NY. He has had 17 books published, consisting of translations from Spanish of short stories and poetry by Nobel Laureates; interviews with Borges and 10 other Latin-American writers; literary criticism of Spanish and Latin-American authors and books teaching Spanish at various levels. He has also had two thriller novels and a collection of his own short stories published.
http://www.amazon.com/dp/1462026931
###