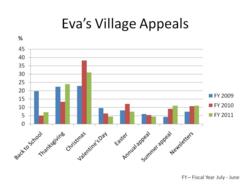 Paterson, New Jersey (PRWEB) December 14, 2011
Eva's Kitchen, the well known soup kitchen operation at Eva's Village, a comprehensive anti-poverty organization, opened an addition on Thanksgiving Day, providing new seating for 160, and expanding capacity to 400 at one seating. While the need, and donations, peak over the holiday season, paying for the expansion is a year-round effort. "Our Thanksgiving and Christmas appeals raise more than 40% of our yearly donations from such appeals," states Donna Marie Fico, Chief Marketing Officer at Eva's Village.
During the holiday season both donating to a charitable organization and volunteering increase dramatically compared to the rest of the year. Many people want to show appreciation during the holiday season and as the year comes to a close, and research has shown that as much as 50 percent of charitable donations are made between Thanksgiving and Christmas. "It is a time of year when people feel particularly generous and caring and making charitable donations is ever-present in many people's minds; the holidays simply bring out the best in us" says Ms. Fico.
Eva's Village, like many nonprofit organizations, counts on the holiday season to boost their donations and help them meet their fundraising goals. Ms. Fico relates that while donors are generous throughout the year, 2011 is the first year during the economic downturn that Eva's Village is experiencing a decrease in donations overall, causing concern that funding for the many services provided by Eva's Village may jeopardize the true continuum of care Eva's Village provides for the hungry, homeless and addicted.
Eva's Village also benefits from an increase in donations of holiday gifts and other goods during the holiday season. Many corporations, churches and civic groups collect new toys and clothing, allowing Eva's to provide the clients living with them, to feel the joy of Christmas. "All children should feel the joy of opening presents placed under the Christmas tree and because of the many who donate to Eva's, the children of our clients get to experience this wonder and joy as well," states Sister Gloria Perez, Executive Director. "Our Holiday Shoppe provides parents, not able to purchase gifts for their children at this troubled time in their lives, to choose from a wide array of gifts donated."
Donors looking for holiday charitable giving opportunities will also be pleased to know that Eva's Village holds a fifth consecutive 4-star rating from Charity Navigator. Ken Berger, President & Chief Executive Officer, Charity Navigator says, "This "exceptional" designation from Charity Navigator differentiates Eva's Village from its peers and demonstrates to the public it is worthy of their trust."
Originally a New Jersey soup kitchen, Eva's Village was founded in 1982 by Msgr. Vincent E. Puma in response to the increasing incidence of homelessness in Paterson, NJ. But Msgr. Puma soon realized that another New Jersey soup kitchen was not enough. With the generous support of thousands of donors and private and government grants, Eva's Village has grown into the most comprehensive anti-poverty program in New Jersey, providing food, shelter, recovery programs, free medical and dental care and transitional and affordable housing, plus opportunities for education, job counseling and more.
###