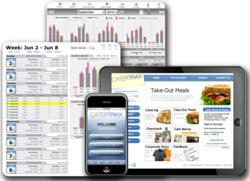 We have grown tired of being the best kept secret in the industry. says Rich Rund, CEO.
Rochester, Ny (PRWEB) December 15, 2011
CaterTrax is the leading online solution developed by hospitality professionals proven to promote, grow, manage, and sustain profitable foodservice businesses. CaterTrax, now in its seventh year of operation with a growing staff of more than 50 is proud that it has accelerated growth for over 1,600 foodservices business across North America.
In the midst of a sour economy, foodservice businesses have embraced the CaterTrax technology to help grow their business with a complete catering management system that gives hardworking operators the tools and support they need. CaterTrax is more than an online ordering system, it is a complete turn-key package offering a six step process to easily implement a customized site that has proven to grow catering businesses year over year.
CaterTrax has set themselves apart from other hospitality online ordering software companies because the customer orders entered on a CaterTrax web site connects with the back-end kitchen management tools built into the CaterTrax platform. "We offer so much more than just online ordering. We offer a complete system that allows the operator to not only receive new orders from their customers online, but also manage and fulfill those orders in the most efficient way possible." says CFO, Daniel Welch.
"We have grown tired of being the best kept secret in the industry. says Rich Rund, CEO. Our slow and steady growth has allowed us to build the system processes, business infrastructure, and leadership team to expand our market share. I am a fourth generation foodservice operator; this industry knowledge has allowed my team to create products and services that work in real world scenarios faced by foodservice professionals every day."
About CaterTrax:
CaterTrax offers foodservice operators an advanced online platform for their catering, take-out, and floor stock businesses. CaterTrax offers each business a flexible custom web site that provides a seamless branded front end for consumers. With each site consumers use their online ordering accounts to place orders with secure PCI compliant gateways, receive order confirmation emails and can repeat orders with the click of a button. From the back end, foodservice operators are able to take advantage of the integrated platform tools to manage their catering events calendar, edit invoices, promote their businesses with marketing tools and sustain their business with business intelligence offered by the built-in advanced reporting.
The co-founders of CaterTrax started out with a family-owned catering business where they developed efficient processes for managing large-scale food service operations. These processes became the core foundation of the web-based CaterTrax platform. CaterTrax was created by passionate professionals who understand the realities of managing high volume food and hospitality businesses. The vision that charted the company still provides purpose today- the team at CaterTrax is continually seeking new innovative solutions to improve the quality of life for caterers, foodservice operators, and the customers they serve. For more information about CaterTrax visit their web site.
###