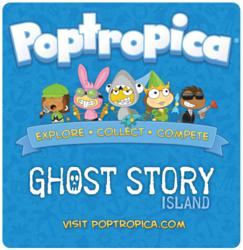 With our newest Island, Poptropica players embark on a scary, fun adventure as they explore and conquer its challenges.
BOSTON, Mass. (PRWEB) December 14, 2011
Poptropica visitors face a hauntingly fun challenge with tomorrow's debut of the new Ghost Story Island, the 23rd Island on the popular virtual world for kids. Poptropica Members with Early Access can explore the entire Island on Dec. 15, while non-members will have access to a limited portion until its public launch on Jan. 12, 2012.
Ghost Story Island's setting is a seaside town called Hemlock Harbor – said to be haunted by restless spirits. Poptropica players will use a variety of ghost-hunting technologies to find out if the ghosts they encounter are real and, if yes, what they want. Along the way, players will discover a long-hidden secret about Hemlock Harbor.
Ghost Story Island launches just in time for the holidays, and Poptropica Membership is a great last-minute gift for kids. Membership can be purchased online at any time at Poptropica.com in monthly, three-month or six-month increments.
"With our newest Island, Poptropica players embark on a scary, fun adventure as they explore and conquer its challenges," said Jess M. Brallier, publisher of Poptropica.
Other Poptropica merchandise is also available for gift giving this holiday season. Poptropica: The Official Guide, the first of many upcoming books, offers fans a detailed walkthrough of the site as well as background on the Islands, characters and behind-the-scenes content. And fans of the popular virtual world can also add Poptropica toys manufactured by Jazwares, Inc., to their holiday gift lists. The sets of plush figures, three- and six-inch action figures, and playsets are available at Toys"R"Us stores nationwide and online at http://www.Toysrus.com/Poptropica and select Barnes & Noble stores.
Recently named as one of TIME magazine's Top 50 websites of 2011, Poptropica has been visited by more than 185 million kids worldwide since its launch in 2007. Players come from more than 130 different countries and have their web browsers set to more than 100 different languages, ranging from Spanish and Sanskrit to Vietnamese and Croatian. All Poptropica Islands are free to play, and each represents a unique theme and challenge.
About Poptropica (http://www.poptropica.com)
Poptropica is a virtual world in which kids explore and play in complete safety. Every month, millions of kids from around the world are entertained and informed by Poptropica's engaging quests, stories and games.
Kids create a "Poptropican" character to travel the many Islands of Poptropica and use gaming literacy to enjoy a narrative that is often rooted in factual history. Problem-solving skills are honed as kids discover and solve mysteries unique to each Island.
There are always new areas to explore in this ever-expanding world where kids can collect objects, read digital books and comics, watch movies, and compete in head-to-head competition. Parents can always trust that their children are playing – and learning – in a safe online environment.
Poptropica is published by Family Education Network, a part of Pearson, the education, services and technology company. Pearson's other primary operations include the Financial Times Group and the Penguin Group.
###