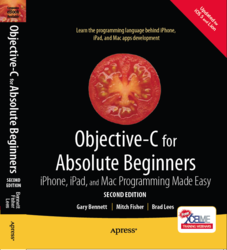 Scottsdale, AZ (PRWEB) December 14, 2011
xcelMe, the largest online iPhone and iPad training program, has just released Objective-C for Absolute Beginners 2nd Edition. The first edition of this book has helped thousands of students to learn Objective-C programming and eventually submit their apps to the iTunes App Store.
The second edition of this book is updated for iOS 5, Xcode 4.2 and Lion. This book is for anyone who wants to learn to write iPhone and iPad apps, including those who have never programmed before, or who may have programmed before, but not Object Oriented Programming.
Additionally, every Wednesday night, at 6:30pm Pacific, the author Gary Bennett, has free-live interactive Webinars where he covers chapters from the book and answers student's questions. These webinars are recorded and posted later on Youtube. To attend these free webinars and view prior recordings, visit here.
xcelMe offers live-online and recorded courses that teach students how to write iPhone and iPad apps. These courses are:
-Intro to Object Oriented Programming and Logic
-Objective-C for iOS and Mac developers
-Cocoa Touch
-iOS Programming - Part 1
-IOS Programming - Part 2
-iPad App Development from the Ground Up
xcelMe also offers live-online iPhone and iPad Game Programming courses. These courses are:
-Game Design Fundamentals
-Core Animation & Audio
Game Programming 1
Game Programming 2
Game Engines 1
Programming Game AI
###